New gas drilling restrictions
Diane Xavier | 12/24/2013, 10:10 a.m. | Updated on 12/26/2013, 4:07 p.m.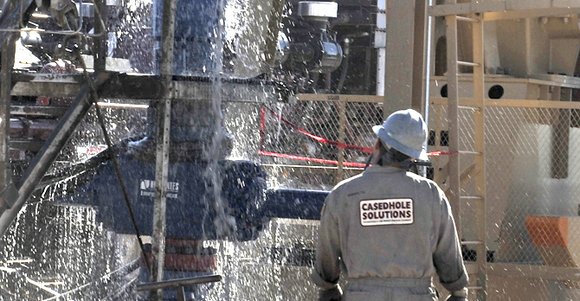 The Dallas Examiner
The Dallas City Council recently voted 9-6, in favor of a gas drilling ordinance that would restrict drilling to at least 1,500 feet from homes, schools and businesses.
The vote came after hearing hundreds of hours of testimonies from residents since 2011 who were concerned about safety issues of gas drilling, effects on the environment, rights of gas leasing and fracking.
Mayor Mike Rawlings allowed 13 citizens to comment about the proposal at the City Council meeting on Dec. 11.
"This has been something on our plate for two-plus years," Councilmember Dwaine Caraway of District 4 said. "To move nowhere during those years is a disservice to citizens. To keep all citizens safe is our priority but we had to move this ball to the next level and not put it off any further."
The ordinance was put together by the City Plan Commission, which recommended a 1,500-foot setback near gas wells and was also endorsed by Councilmember Scott Griggs of District 1.
Mary Warren was one of several citizens who expressed her concerns about the ordinance.
"I'm come to you today and realize the merry-go-round on our gas ordinance has stopped," Warren said. "It looks like to me it stopped at the place that benefits those who are planning on financially benefitting from gas drilling the most. It does seem like it will harm the average citizen and most all citizens. However, the merry-go-round of citizen activism and vigilance will continue. You are not going to get rid of us and we will continue to voice our concerns. I am not happy at all with this ordinance and haven't been happy with any because I think we should ban drilling in the city of Dallas. It has no business in an urban area. The costs are going to outweigh the revenue."
Councilmember Vonciel Jones Hill of District 3 voted against Griggs motion and had a question for those concerned with gas drilling.
"It is illogical to attempt to disallow gas drilling in Dallas," Hill said. "That is what this motion does. We have to balance the rights and interests of all citizens' health and safety with the economic impact. For those who do not want gas drilling, my question to you is, 'Where would you like it to happen.' If you do not wish any potential risks or burdens, you should not expect any benefits. Turn off your gas stove, power to your air conditioner, and ride something other than a car. Accept no benefits if you are not willing to accept no burdens."
Those that voted in favor of the motion included: Mayor Mike Rawlings, Deputy Mayor Pro Tem Monica Alonzo, councilmembers Scott Griggs, Adam Medrano, Dwaine Caraway, Carolyn Davis, Sandy Greyson, Jennifer Staubach Gates and Philip Kingston.
Those against the ordinance were Mayor Pro Tem Tennell Atkins, and councilmembers Vonciel Jones Hill, Rick Callahan, Sheffie Kadane, Jerry Allen and Lee Kleinman.
The new ordinance is one of the strictest gas drilling motions in North Texas.
Other cities such as Denton allow drilling within 1,200 feet while Fort Worth allows it within 1,000 feet. Dallas' current ordinance allowed it within 300 feet of a home or business.
Davis of District 7 said the new ordinance will further protect residents.
"I think this is about making sure people are protected in their neighborhoods," she said. "It is the right thing to do."