Rock'n Christmas Gifts
Students donate handcrafted gifts to children in need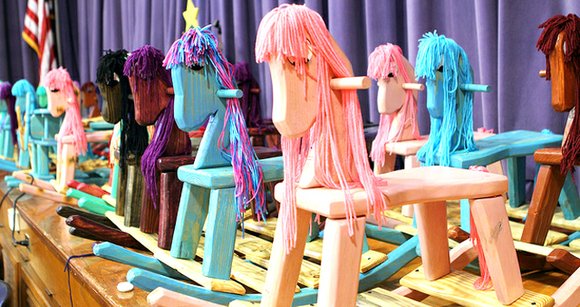 Special to The Dallas Examiner
Terry Stott's classes at Dallas ISD's Multiple Careers Magnet Center produced one-of-a-kind wooden rocking horses, reindeer and airplanes for several years to donate to charities. In the past few years, they have added rocking airplanes to the donation.
The handmade gifts have become a tradition over the years for teacher Stotts and his woodworking classes that have taught students much more than how to build with their hands. The project offers the students an opportunity to touch the lives of young children in a special way during this holiday of giving.
This year, the wooden horses have noticeably different appearances; bright colors have replaced the crafts' traditional varnish. Additionally, this year's wooden rocking horses will be donated to the young patients of Ronald McDonald House of Dallas.
A few of the items will be donated to students at Maya Angelou High School, a school for students who are expectant teen mothers, which is housed in the magnet center.
Stotts praised his students for working hard, but the effort is worth it to them.
"It's kids helping kids. It doesn't get better than that," he said, adding that he also looks forward to the project each year. "I'm so blessed to have fallen into a place where I can give back. So blessed."
In the past, the classes donated their handcrafted wooden gifts to A Wish with Wings, based in Fort Worth. Students also produced extra crafted horses that could be purchased at the school to give as gifts.
As a twist this year, some of the items have been stained with bright colors rather than traditional varnish and that has caught the eyes of several teachers at Multiple Careers who want to add to their collections.
The creation of the rocking horses is just one of the examples of how the center prepares students to learn a trade that will allow them to live independently after they graduate. Every April, the students also hold a sale of plants they have grown in the school's garden as a result of a partnership with Dallas County Master Gardens.
After a recent visit to the school, Superintendent Mike Miles commended Principal Cheryl Humphrey and her staff for setting high expectations for all students and helping them become successful, productive members of the community. The career-skills students gain at Multiple Careers Magnet Center supports the vision of the Dallas ISD to have the highest number of college- and career-ready graduates of any large urban school district.