The significance of the Obama-Castro handshake
BENJAMIN F. CHAVIS JR. | 12/24/2013, 9:40 a.m. | Updated on 12/26/2013, 4:30 p.m.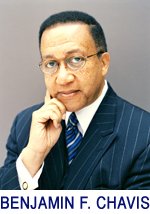 Thus, for millions of Africans all over South Africa, Angola, Namibia and across the continent of Africa and throughout the African Diaspora, including America, the sight of Obama shaking the hand of Castro was filled with a sense of historical gratitude to thank Cuba for helping Africa and to note how far the struggle for African liberation, self-determination and empowerment has advanced during the past 60 years.
But this does not mean that the struggle for freedom and economic prosperity is over in Africa. The memorial service and the state funeral for Madiba are very important milestones that we all should mark with a sense of rededication to continue the struggle for African liberation and progress as a lasting tribute to the legacy of Mandela.
Hopefully, the Obama-Castro handshake will also prompt the Obama administration to take more steps to improve relations between the U.S. and Cuba. There are currently efforts to support more cultural exchanges between the U.S and Cuba today as well as to increase economic development interests in anticipation of the eventual lifting of the sanctions against Cuba.
South Africa President Jacob Zuma had a private meeting with Castro after the Obama-Castro handshake. Zuma affirmed, "It is very importance to us that President Castro came in person. Paying tribute to Madiba would not have been complete without the participation of Cuba."
Likewise, it was important for Obama to be characteristically bold and respectful by reaching his hand to grasp the hand of Castro. It was the right gesture for the sake of history.
Lastly, out of respect to Mandela's legacy, we all should take further actions that will exhibit the hope that a better day is coming for the people of the U.S., Cuba, Africa and the world.
Benjamin F. Chavis Jr. is president of Education Online Services Corporation and the Hip-Hop Summit Action Network. He can be reached through http://www.drbenjaminfchavisjr.wix.com/drbfc.