Activists urge end to War on Drugs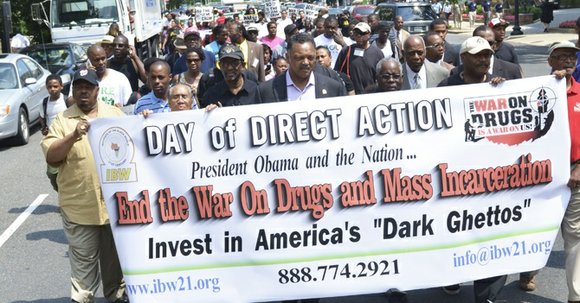 WASHINGTON (NNPA) – Black activists marked the 42nd anniversary of the War on Drugs with a protest in front of the White House aimed at ending a targeted action that has led to the disproportionate arresting, conviction and incarceration of Blacks for decades.
The Institute of the Black World 21st Century, an organization dedicated to the empowerment of the Black community, mobilized a network of community groups last Monday for the "day of direct action."
Workers on their lunch breaks and a few tourists paused to snap cellphone photos of the group of activists as they marched, led by a police escort, from the Metropolitan A.M.E. Church in Washington, D.C., down 16th Street NW and into Lafayette Park for the rally. Event organizers and marchers touted the symbolism of protesting against the president's War on Drugs within shouting distance of the White House.
"The War on Drugs was started by a president and it needs to end with the president," said Courtney Stewart, chairman of The Reentry Network for Returning Citizens, a group that helps ex-offenders find jobs, housing and access to social services. "Everything starts with leadership. President Obama is the leader of this great nation. He needs to end the War on Drugs."
Ron Daniels, president of the Institute of the Black World 21st Century, said that the "War on Drugs" is a war on us. Daniels, a veteran social and political activist, said that the statistics are clear and reveal racial discrimination in the criminal justice system.
The Sentencing Project, a non-profit organization focused on criminal justice advocacy and research, reported that Blacks make up 12 percent of the total population of drug users, "but 34 percent of those arrested for drug offenses, and 45 percent of those in state prison for a drug offense." Whites accounted for less than 29 percent of state prisoners incarcerated for drug offenses.
According to a 2010 study conducted by The Pew Charitable Trusts, 1 in 12 working-aged Black men is in prison or jail, compared to 1 in 87 working-aged White men.
The report also showed that "2.7 million children have a parent behind bars," and most are incarcerated for non-violent offenses. More than 11 percent of Black children have a parent that is locked up, compared to less than 2 percent of White children who share the same fate.
"Children with fathers who have been incarcerated are significantly more likely than other children to be expelled or suspended from school," the report stated. When children spend less time in school as a result of disciplinary action, they often spend more time in the juvenile justice system, which can lead to a young person becoming ensnared in the criminal justice system as an adult.
Statistics associated with the so-called "War on Marijuana" show even deeper disparities.
According to a recent report by the American Civil Liberties Union titled "The War on Marijuana in Black and White," a Black person is 3.73 times more likely to be arrested for marijuana possession than a White person, even though Blacks and Whites use marijuana at similar rates.