Activists urge end to War on Drugs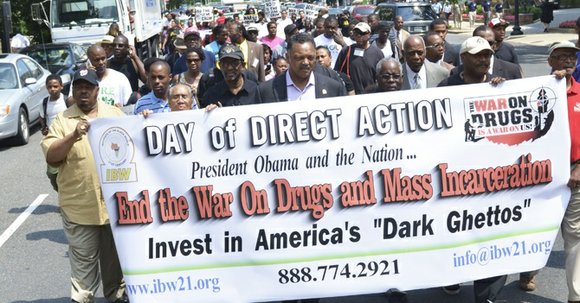 States collectively spent more than $3.6 billion chasing down and arresting Americans for marijuana possession and in at least one case, for just a seed of marijuana. According to the ACLU study, there was a marijuana arrest every 37 seconds in 2010. In some states, Blacks were "six times more likely to get arrested for marijuana possession than Whites." In the worst counties in America, the disparity between Black-White marijuana arrests jumped to 30 to 1.
"Just as with the larger drug war, the War on marijuana has, quite simply, served as a vehicle for police to target communities of color," the ACLU report said.
Ron Daniels said that the War on Drugs is a targeted, racially biased program that is devastating and destroying the Black community.
Jesse Jackson, founder and president of the Rainbow PUSH Coalition, abandoned the usual melting pot analogy often used to describe a diverse group of people working together.
"Black people cannot sacrifice the integrity of our Black experience for that coalition," Jackson said.
Many of the criminal justice advocates used their proximity to the White House to make a point about the current administration.
"The president has to come out and say that he supports the Black community and that he understands the issues that affect the Black community," Stewart said. "He has to say that he understands the disparities, that he understands the lack of hope, that he understands the joblessness, and that he understands how this 'War on Drugs' has really decimated our community."
Stewart said that until Obama articulates those concerns on a national stage and backs those concerns with policy reforms, little will change. Stewart said that without that, many people won't fight, because they don't see their leader in the White House fighting.
The network of community organizations and activists called on the president to intensify efforts to eliminate drug sentencing disparities, to publicly support the decriminalization of the possession of small amounts of marijuana, and to allocate more funds for drug education, counseling and treatment.
Daniels said that ending the War on Drugs will take a significant mass movement, similar to the grassroots campaigns that increased national and, at times, global awareness about issues affecting other minority groups in the United States.
"How did marriage equality come about? The immigration question, why is that on the table now?" Daniels asked. "The dreamers never stopped dreaming. You can't just sit back. You have to keep organizing, and organizing, and organizing until your message is heard."
Jackson said that it's not enough just to have friends in high places.
"At the end of the day it's about direction," Jackson said. "It's not merely about complexion."