Black gay billboard controversy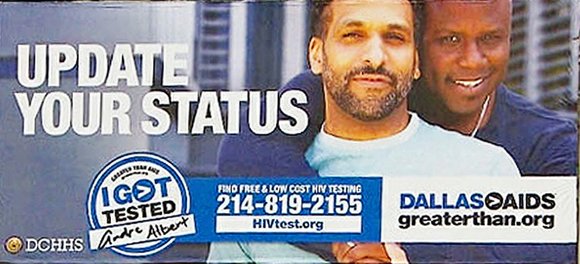 The Dallas Examiner
A billboard at the corner of Red Bird Lane and Highway 67 was designed to bring attention to the rising number of HIV cases in Dallas. However, it received more attention than expected. Citizens throughout Dallas expressed negative opinions about the display. But it was comments viewed as anti-gay statements made by Councilwoman Vonceil Hill, that ensued a protest.
Hill's comments made national news after she expressed her objections to the Greater Than AIDS billboard in her district. The billboard depicts one African American man embracing another African American man, next to the words "Update Your Status."
In an email to the media, she stated that the billboard is "Presenting African American men who are homosexuals as acceptable, engaging in such conduct presents health risks, feel free to continue what you are doing, but protect your health."
She previously expressed her opposition to homosexuality in 2009 as she declined an invitation to attend the Dallas gay pride parade. That same year, during an interview with the Dallas Voice, she cited her religious faith as the basis of her views and stated, "I believe that all people are loved by God, all people are created equal under God, but there are acts that God does not bless."
Local activists assembled in front of Abounding Prosperity on Martin Luther King Jr. Boulevard, June 22, shouting "Rev Love," short for "Revolutionary Love," which is a phrase coined by visionary Black gay activist Joseph Beam.
"If we have to, we will plaster our faces and lives and our love on every billboard in America," stated protest planner, Harold Steward, as he addressed the remarks made by Hill.
Eric Henry, a volunteer at Abounding Prosperity, stood in support of the gay community and revealed to the crowd that his father abandoned him as a child while his mother deserted his emotional needs and he was ultimately molested over the course of five years. He said the gay community accepted him after falling on hard times.
"Whether or not you accept me, Councilwoman Vonciel, I'm going to continue being a proud African American gay man," he declared.
The Rev. Alex Byrd, senior pastor at Living Faith Covenant Church, dealt with the issue from a religious standpoint. He addressed the concerns of Bishop Eli Jacobs who said in a previous television news report, "When I saw it, I said, 'Now what are they up to? They're trying to promote two men being together?'"
"Yes," Byrd replied. "This is a religious issue, so I can understand why Bishop Eli Jacobs would have concerns about his perceived subliminal message of this billboard. Yes, I can understand why Bishop Jacobs is so concerned about the message this billboard is sending. He believes that it is sending a message that is contrary to the will of God."
However, protesters were more concerned about public health rather than the homophobic response the billboard generated.
"It is ungodly and unchristian for us to ignore the fact that 49 percent of all newly infected cases of HIV in Dallas are among the Black community," Byrd said. "I understand why Bishop Jacobs is speaking out, but I cannot understand why Councilwoman Vonceil Hill Jones is speaking out against this billboard … she has been elected to represent the people."