Black gay billboard controversy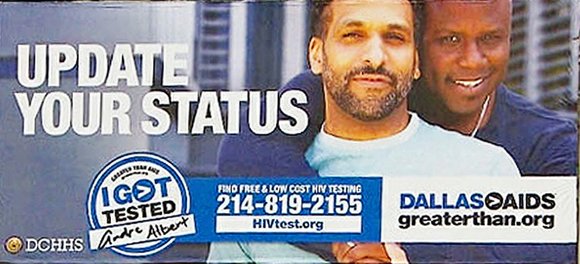 Alpha Thomas, an African American lesbian activist, stood in support of Black gay men.
"We will not be silent or invisible while AIDS continues to ravage and devastate our community," she demanded. "Black gay men have always been and always will be part of Dallas."
The facts are that, of the 1.1 million people in the United States living with HIV, those most severely affected are gay, bisexual and other men who have sex with men – particularly young African American men, according to the Center for Disease Control.
The Dallas Greater Than HIV campaign uses several resources to encourage the African American community to get tested for HIV and use appropriate protection during sexual activities. The sign with the two African American men is just one of many photographs used in the campaign.
Zachary Thompson, director of the Dallas County Health and Human Services, took a moment to explain the purpose of the Greater than AIDS display.
"The message is very clear. The message is that among African American men who have sex with men, the rate of new HIV cases is at an epidemic proportion," Thompson stated during a televised news interview. "The billboard is a way to get the attention, not only for individuals to get tested, but awareness in the African American community regarding the HIV rates."