Growing Hatcher Gardens
New development promises growth in South Dallas
Michael McGee | 7/9/2013, 2:34 a.m. | Updated on 7/4/2013, noon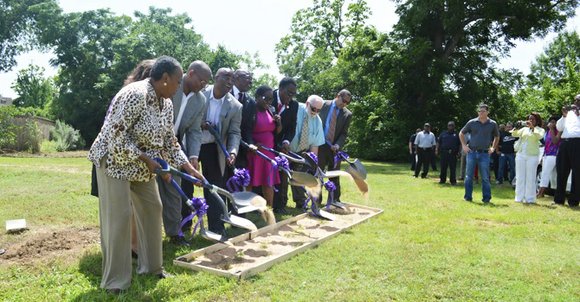 The Dallas Examiner
"This is a wonderful day for this district," said District 7 Councilmember Carolyn R. Davis during the June 21 groundbreaking ceremony for the Hatcher Gardens development. "Especially the South Dallas/Fair Park area."
Located at 4002 Hatcher St., this building project is part of Mayor Mike Rawling's GrowSouth initiative to redevelop Southern Dallas County.
Bernadette Mitchell, Assistant Director for Housing Community Services for the city of Dallas said that the building will be a three-story mixed-use structure. The upper floors will contain 10 apartments while the ground floor will be for commercial space.
"It is also a mixed-income development," she said. "Meaning that it's not just low-income folks that'll be living here."
The total cost of the project is $1.5 million, of which Dallas has invested $300,000. Craig Gant, Jerry Hicks and Kurt Thomas make up KKBK Properties LLC, the owners of the project, with Gant acting as managing partner.
"The neighborhood itself is undergoing a huge revitalization," Mitchell said.
Among the other dignitaries on hand for the groundbreaking ceremony were District 8 City Councilmember and Deputy Mayor Pro Tennell Atkins as well as Dwaine R. Caraway, councilmember for District 4. Both Atkins and Caraway came from the Frazier neighborhood, the site of Hatcher Gardens. The men are confident that the development is a step in the right direction for the city.
"It has been a long time coming," Atkins said as he addressed the small audience. "Over 50 years ago I lived right down the street on Mill Place. We are back home right now. We are gonna grow. You're gonna grow south, you've got to go south."
Caraway also spoke about his past in the Frazier community.
"I was born here … on Mill's Place, down in the projects," he said. "I still have a picture as I was a baby, sitting on the porch, eating ice cream. Those are the times we want to return back to South Dallas. There's a transformation of this community that is going on right now."
He thanked Davis for her efforts to bring Hatcher Gardens to fruition. Speaking directly to those assembled, Caraway added, "You all are going to be, and are going to do, great things. You are a part of history, and the transformation of our community."
"Hatcher Gardens is only one puzzle piece to that transformation. It's part of an investment totaling more than $11 million that the city made in the Frazier area," Mitchell said. "A medical facility and the redevelopment of Spring Street are still on the way. Carpenter's Point, one of the first new developments of the area, has 126 senior living housing units. All are currently full."
"Which just shows us that there is demand for quality housing in this area, and a great need for it," Mitchell stated. As she indicated the Dallas Area Rapid Transit Hatcher Station that sits near the lot, she added, "We want the availability of transit for any resident, for them to access jobs and medical facilities."
Frazier Revitalization Inc. is creating its own mixed-use development on the other side of the street, Davis said, describing the dual real estate projects as "a wonderful marriage."
"This is just the beginning for the type of development that we need in our neighborhood," she continued, adding that she has requested the development team to look at other vacant lots and figure out what more could be done to create further economic and housing development in the area.
The purpose of all of this, said Mitchell, was to meet the need of current residents while bringing in new residents and businesses.
"To create something new here gives an opportunity for anybody to live close to a station, have easy access to transportation, and just the newness of bringing new construction and sort of a revived sense into the neighborhoods is really important," she remarked.
The lot was formerly occupied by what she described as "an old, dilapidated sort of apartment complex," sometimes called the "pink building."
Formal construction begins in August. Once completed, space will be available to the public in early 2014.