Nikyla Green's big score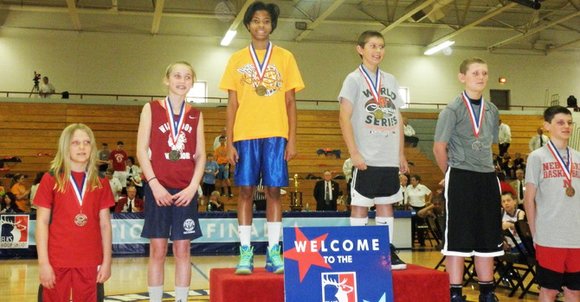 The Dallas Examiner
It was "nothing but net" for Spring Creek Elementary student Nikyla Green of Richardson, as she sank in 23 out of 25 free throw baskets in a national free throw shooting competition where she emerged as one of six national champions.
Nikyla's name is permanently inscribed in the Naismith Memorial Basketball Hall of Fame after winning the 10-11 year old girl's division of the Elks National Hoop Shoot held in Springfield, Mass., on April 20.
She recently turned 12 years old.
"It felt awesome to be a national champion," Nikyla said. "It's pretty cool to win at that young of an age. It was fun."
The Dallas Elks Lodge No. 71 sponsored her. She said the Elks organization has helped her become the best.
"The Elks have helped me along the way," she said. "The journey that I have taken to the Hoop Shoot, they pushed me and motivated me to do this and to do that. My goal is to be the best in my generation."
The Basketball Hall of Fame partnered with the Elks National Hoop Shoot, a free throw contest for youth ages 8 to 13. The program is free to all participants and provides youth an opportunity to compete, connect and succeed through hard work and competition.
Winners advance through local, district, state and regional contests to reach the National Finals held in Springfield. The Hoop Shoot began last fall when more than 1.5 million 8- to 13-year-olds from across the country began their journey to make the most of 25 free throws and end up in Springfield.
"I love basketball because it is something that I love to do and I'm good at it," Nikyla said. "I love to play the game, especially since all my family plays and I get to play against my older and younger cousins. My mom asked me if I wanted to play, and I was like sure. I started off playing with the boy's team and then I started playing more and more and got better."
Nikyla said winning didn't come easy. She would spend hours at the gym practicing her free throw shots and would practice with her dad, Gurol Green, at the gymnasium at Cedar Valley College in Dallas. Nikyla said she would spend at least two hours a day practicing.
"I practiced a lot because I wanted to win," she said. "A lot of my time was spent shooting baskets and any chance I got to practice I would do to get better."
Nikyla currently plays basketball for DFW Elite.
"I competed with people from all over the United States during the Hoop Shoot," she said. "I felt a little nervous because I didn't know what the other shooters could do or what I can do and there was a little competition there. I just wanted to make it to nationals and didn't necessarily think I was going to win. It does feel great to be a national champion."
Her parents supported their daughter all the way, despite the heavy practicing schedule.