Nikyla Green's big score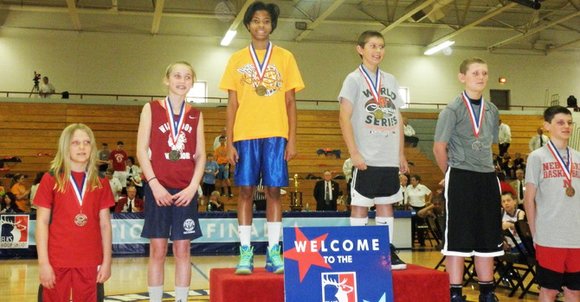 "I think it is her internal drive," Gurol said. "I would just set it up and I would tell Nikyla that she was practicing too much, but she kept continuing to practice. It's nothing we ever really pushed, it's all internal with Nikyla. She did it to be the best. She would shoot free throws until her thumb would get sore."
A week before the competition, Nikyla put in about one thousand free throws.
"It still really hasn't set in," her father said. "I'm proud of her because her mother was an athlete and I was an athlete in college and just to see our child progress further than we were and become a national champion, it just feels real good."
Her mother, Rose Dunn, said she felt more nervous than Nikyla at the competition.
"It was so wonderful the moment that I knew she won," Dunn said. "I wanted to just scream but couldn't because there were other shooters competing still. I was just overjoyed that she did so well."
Dunn played basketball in college and said Nikyla started playing with the basketball at age three.
"I saw her play with the ball and asked her if she wanted to play and she tried it and liked it and has been playing ever since," Dunn said. "So we have just been working every year to get better. Her dad was coming to get her nearly every day and she was practicing for at least an hour or two just straight free throw shooting from doing laps in between her shooting so she can learn to shoot through the fatigue and keep her strength up to make the shots."
Dunn encourages other parents to get their children involved in sports.
"It really helps them with teamwork and how to interact with people," Dunn said. "It teaches life skills and helps you with the fundamentals once you become an adult."
Nikyla said she has many goals, one of which is to make good grades.
"I know that making good grades is a priority because if I want to continue to play, I have to make good grades," Nikyla said. "Also, I would like to play basketball overseas one day after college."
Nikyla said her college plans include attending Texas A&M University to study to become a veterinarian and also because the university has a good lady's basketball program.
Her basketball role models include Former NBA Champion Michael Jordan, Charlotte Bobcats, NBA player Jeffrey Taylor and WNBA star Brittney Griner.
"I would also teach kids to play basketball because a lot of the kids at my school would be like, 'Could you teach me to play basketball?' and so I would teach them and show them," she said.
Her father encourages other parents to let their child develop his or her natural talents and to put education first.
"In our house, grades come first, so if your grades are not good, then you can't participate or play," he said. "Also, don't force it on them but encourage and nurture their talents. Nikyla picked up a basketball probably at the age of
We never forced it on her. We just encouraged her because she is just a natural."
Nikyla offered a bit of advice to her peers who would like to become a champion like her.
"Just practice and be dedicated to whatever your goals are," she said. "You will get better and better."