Steve Harvey's National Mentoring Camp: Preparing young men for success, life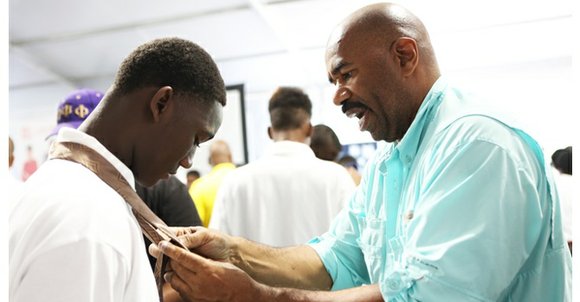 The Dallas Examiner
They came from cities all across the United States to a ranch just outside of Dallas for a life-changing experience. All of them shared similar stories: having a missing father in their lives and growing up with a single female as head of the household. Many of them thought they could never become successful or get anywhere in life due to their circumstances.
However, one man and his staff hope to change that mindset.
The 5th Steve Harvey's National Mentoring Camp took place June 11 through June 16 during Father's Day weekend at Harvey's ranch in Little Elm.
The program allowed young men to participate in a motivational program dedicated to teaching the principles of manhood.
One hundred young men from all across the country came to participate in a mentoring camp hosted by Steve Harvey, comedian and celebrity talk show host.
Boys 13 to 18 years old were chosen for the camp through an application process. The participants experienced a week full of mentoring along with the outdoor events such as sports clinics, fishing and wildlife education, the Gates Millennium Scholars Program, empowering sessions on manhood, team building, and seminars on defying the odds.
According to the organization, the goal of the program is to break the misguided traits of manhood and create a generation of men who are emotionally, socially and economically strong.
"The mentoring camps are interactive programs whose sole purpose is to share and teach the principles of manhood and dream building to young men," Harvey said. "The program helps them realize their potential and envision a future where they are physically and emotionally equipped, responsible and productive men."
The weekend included workshops that focus on personal responsibility, dream building, and the importance of nutrition and physical fitness. In addition, the participants were introduced to positive male role models who are leaders in various areas, including business, their communities, entertainment and the military. The foundation also hosted a concurrent Parent Program on site.
According to the foundation, 47 percent of African American males will not graduate from high school on time, every day more than 1,000 African American teens are arrested, and 57 percent of African American children are being raised in fatherless homes.
Due to these statistics, Harvey said his goal and mission is to ensure that the needs of the whole child are met through development of programs that foster excellence in children within urban and ethnically diverse communities.
Harvey told the young men he was once in their shoes.
"I was you, I was nothing going nowhere fast and then somebody saw the best in me," Harvey said. "These weekends are critical and very effective because if you give a young boy a snapshot of manhood, a photo of what it looks like, you know something that he can pull out of his pocket and see what it looks like, that is a very important moment in a child's life. The objective of the weekend is to turn these boys and young men into a great man."