Steve Harvey's National Mentoring Camp: Preparing young men for success, life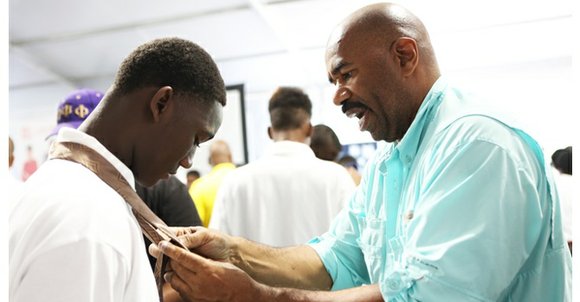 Lar-Darion Cobb attended the camp for the first time.
"I attended this camp to grow to become a man and get responsible in my life," Cobb said. "I want to be able to become a man without the father I never had. I have learned a lot from this camp and it has taught me a lot and I also got to meet new people. The camp was fun and we did a lot of hard work."
Azohn Davis from Mississippi said he loved the inspiration the event provided.
"I came here to get extra help and learn all the new things," Davis said. "I wanted to learn how to be a man and how to treat girls. This camp helped a lot with that. I also learned leadership skills, integrity, citizenship and how to be an excellent leader. I am more of a leader now than I used to be and this should really help me. I also love this event because it gives you motivation in reaching your goals."
Kevin Fuller, a mentor for the camp, said this is his fourth year participating.
"I love serving as a mentor because it's just the feeling when you help the young man that you know that you been through the same thing that he has been through, it makes you happy," Fuller said. "It's not that I have to do this, but I want to do this. I just love helping people out. This camp has really helped me as a mentor and junior counselor. When I first came here, it wasn't because I was a troubled child, but the fact that I just wanted my voice to be heard. From this camp, I learned to not place blame on anybody else and keep moving forward. You can blame others for your circumstances in your life but it will do you no good. So keep moving forward."
The group also heard from men who have made it in their field at a session called, "You Can Be Me." Panelists included Benjamin Raymond with State Farm; Steve Pemberton, Walgreens chief diversity officer and author; Bennie Fowler, vice president of Global Quality and New Model Launch for the Ford Group; Dr. Steve Perry, principal of Capital Preparatory School and host of Save My Son; and Azim Rashid, executive with Atlantic Records.
Perry said there is a difference between those who succeed and those who fail.
"The difference between successful people and people who fail is successful people listen while failures don't," Perry said. "I promise you one thing, not everybody in here is going to be successful. The system is not designed for everybody to win. There will be losers and winners. The losers are not going to be the ones that were the least intelligent. In many cases, they are going to be the one who had all the things to gain, but they missed one critical element. They didn't listen."
Perry encouraged the boys to take advantage of the message they heard from Harvey.