Steve Harvey's National Mentoring Camp: Preparing young men for success, life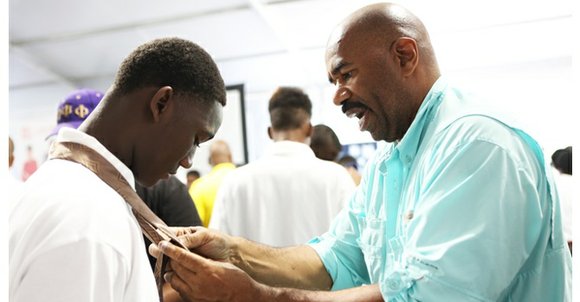 "So the time you have here is critical," Perry told the crowd. "It is critical that you listen because someone has something for you here to tap into. Success is not defined by how much money you make, but how much of an impact you make in life. This weekend is essential for your growth."
Perry also said not to assume that everybody can relate to another's hardship.
"It's very easy to say I know where you are coming and therefore I know where you want to be, but that's not necessarily true," he said. "I don't know where everybody is coming from; I think a lot of you all come from places that I've never seen before. I think some of you are dealing with things that nobody has seen before. One of the things I've seen you guys do that some women don't acknowledge is that it takes a certain sensitivity to grow."
Perry said it might be strange to use the word sensitivity with a room full of brothers.
"I saw you with the fish out there and you didn't just throw the fish back, you had respect for its life," he said. "Some of you in here had more respect for the fish than people have shown for your life and that shows something powerful inside of you that we hope to tap into."
Pemberton encouraged the audience to believe in themselves.
"I'm one of my mother's six children's and we all have different fathers," he said. "I grew up in foster care and every day was a struggle. But what that did was it motivated me to reach my goals. You are already me, you are just a little younger and there are some steps and experiences you are going to have to take to make it. We hope that you'll see some of yourselves in us."