Bennett College welcomes new president
The Carolina Peacemaker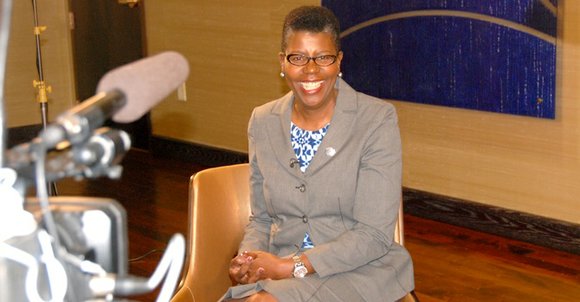 The Carolina Peacemaker
GREENSBORO, N.C. (NNPA) – Bennett College officially introduced its 17th president, Rosalind Fuse-Hall, Monday at a press conference and reception held on the campus.
Bennett students, faculty, staff, alumnae as well as community leaders from across the city praised Fuse-Hall for her past accomplishments in higher education and her strong managerial skills which will help catapult the college on a trajectory of continued growth.
In his introduction of Fuse-Hall, Bennett College Board of Trustees Chairman Charles Barrentine said, "Bennett can no longer afford to just blend in and she [Fuse-Hall] has the ability to help it to the next level."
Fuse-Hall is no newcomer to the halls of higher education. It's in her blood. This native North Carolinian grew up on the campus of Fayetteville State University and comes from a family of educators. Her father served on the faculty at Fayetteville State and her mother and five aunts were teachers.
She is a graduate of the University of North Carolina at Chapel Hill, earning a Bachelor of Science in administration of criminal justice and went on to earn a Juris Doctor from Rutgers School of Law in Newark, N.J. Fuse-Hall also studied at Harvard Graduate School of Education in the Institute of Educational Management. She has 25 years of higher education experience having begun her career as the assistant director of minority affairs at St. Lawrence University (Canton, N.Y.).
Fuse-Hall has also served as the executive assistant to the chancellor at North Carolina Central University and corporate secretary to the Board of Governors of the 17 campus University of North Carolina system. She has also worked as associate dean in the College of Arts and Sciences at UNC Chapel Hill. Fuse-Hall comes to Bennett after serving as chief of staff to the president at Florida A&M University and interim director of Title III Programs.
In her remarks to the Greensboro and Bennett community, Fuse-Hall said, "I feel blessed and highly favored that I can join the many illustrious leaders who have led this college. I am humbled by this distinct honor to serve as 17th president of Bennett College and I am truly excited and overwhelmed to be back in North Carolina."
On returning to her home state and residing in Greensboro, Fuse-Hall said, "This region is the heart of North Carolina pulsing with global innovation and cultural diversity. I look forward to working with students helping them matriculate, progress and graduate."
Fuse-Hall said she plans to use her skills to build strong partnerships especially among graduate and professional schools across the nation which will support the endeavors of Bennett's graduates and scholars. This year, 44 percent of Bennett College's graduating class was accepted into graduate or professional schools. Approximately 40 percent of Bennett's graduates, with the help of partnerships and consortiums created among Greensboro's five colleges and universities, earned degrees in the fields of science, technology, engineering or mathematics.
University of North Carolina at Greensboro President Linda Brady welcomed Fuse-Hall to Greensboro's university community. She said, "It is so important that we [college and university presidents] stand for access, affordability and student success." For Brady and Fuse-Hall, such a united front is crucial in today's political climate where the interest rates on Pell Grants are set to double, and equal opportunity programs such as affirmative action are being challenged in the nation's highest court.