City makes College Park safer for families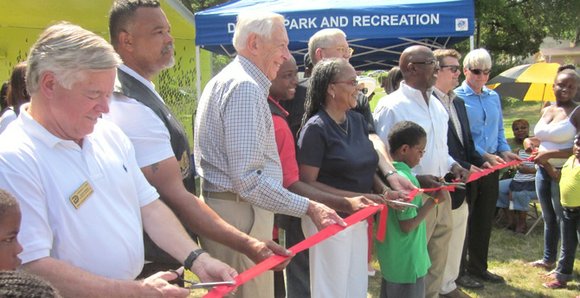 aRecreational parks have been an essential place for families to get together for fun activities, cookouts, relaxation and exercise. But an outdated park with old equipment can be hazardous and unappealing.
On June 29, Mayor Pro Tem Tennell Atkins, councilperson for District 8, was joined by Max Wells, president of the Dallas Park and Recreation Board, and other members of the community for a ribbon-cutting ceremony celebrating renovations at College Park.
"Parks is family," Atkins said. "Parks is family. You can bring your family out here on a cheap dime. People can come out here during the recession, during that time that you do not have that extra dollar to go to the movie, go to the zoo. But you can enjoy your park with family, in safety."
Located at 3300 Highland Woods in Oak Cliff, the park now features a new pavilion, playscape for children, connecting sidewalks, speed bumps in the street alongside the park, improved drainage, and other amenities.
The work on the park is part of the bigger Pavilion Program undertaken by the Park Department. The plan involves building or replacing 23 picnic pavilions within the city in an effort to revamp the parks, making them more appealing for families to visit.
The plan was funded by bond programs in 2003 and 2006. In 2003, the plan provided the $486,000 used for the improvements of park.
Wells remarked that there was a big push a decade ago from residents to bring improvements to area parks. This interest led to the 2003 bond program.
"I think there was a lot of pressure all over the city from different homeowners groups and others to have things done to their parks," he said. "Every pavilion we had was built by the WPA in the 1930s."
Most of the pavilions in Dallas were built in the 1920s or 1930s, with some being added in the 1960s. Many of the older pavilions were restored in order to preserve their historic significance, according to the Parks and Recreation page of the Dallas City Hall website.
However, after the 2003 referendum, the parks that were slated to get new pavilions were assigned a specific architect to design a modern structure. The College Park pavilion was designed by Snohetta, an international architecture, landscape and interior design company based in Oslo, Norway.
"They're all different and they all stand out. They're not in-your-face, but they're a bold kind of design," Wells stated.
Other pavilions that are either undergoing current construction or await construction include those in Umphress Park, North Bark Dog Park, Webb Chapel Park, Lakeland Hills Park, Kidd Springs Park, Westmoreland Park, McCree Park, Moore Park, Casa Linda Park and Glencoe Park.
One parent, Nikita Dixon, is a local resident who used to play football in the College Park field when he was younger. He believes the improvements will be an asset to the park.
"It's very important because it gives kids something to do and keeps them out of devilment," he said. "By redoing the park, it's shaded, and so now the kids can come here in the summertime and enjoy themselves without being threatened by other adults who want to bring them harm. This is a nicer community now than it was before, and we appreciate that."