Exploring STEM careers for girls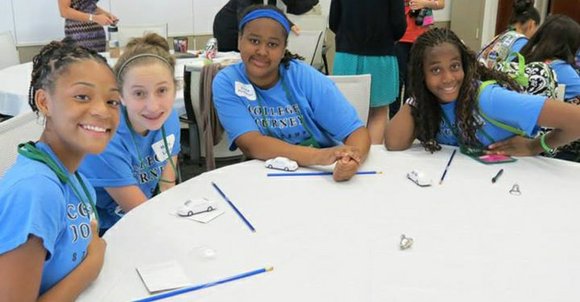 aWith careers in science, technology, engineering and mathematics in high demand, it has become increasingly important to prepare junior high and high school students to enter these fields of study.
From June 23 through June 28, Girl Scouts entering grades seven through eight were given an opportunity to engage in hands-on STEM focused experiments at the University of Texas at Dallas.
The girls were participating in College Journey, a program hosted by Girl Scouts of Northeast Texas that has been designed to inspire girls to pursue goals of higher education and achieve their dreams. The current focus is to decrease the gender gap seen in STEM fields by urging more girls to consider STEM careers.
College Journey has been split into two sessions: Cadette Week, for Girl Scouts entering grades seven through eight; and Senior/Ambassador Week, which is for Girl Scouts entering grades nine through 12. Each was structured as a five-day workshop to expose the girls to STEM careers through meetings with STEM professionals, interactions with college students majoring in STEM, and projects in STEM-related coursework.
Cadette Week was sponsored by Fluor Corporation, a company that assists clients with designing, building and maintaining capital projects.
Senior/Ambassador Week will be sponsored by Texas Instruments, a global semiconductor design and manufacturing company.
In addition, the weeks were created to introduce the girls to college life by having them take college prep classes, tour the campus and stay in the resident halls.
Though STEM careers are growing twice as fast as any other sector, few women choose to enter these professions. Federal statistics show that women earn less than 20 percent of STEM degrees.
While more than 74 percent of teen girls enjoy science and math subjects, only 13 percent list them as top choices for a college major, according to Generation STEM, a Girl Scout Institute study. In fact, the study showed that girls start deciding against STEM careers during their middle school years. This is perhaps due to the many misconceptions that girls have concerning their ability to be successful at these jobs.
"One of the things we find is that if girls think of themselves as being capable in STEM careers, then they're going to succeed. But sometimes just getting them to think in that way is half the battle," said Gerri Gordon, who is the advocacy program manager at GSNETX.
During Cadette Week, the girls participated in STEM activities and worked through an exercise-workbook for Breathe Journey, a Girl Scout leadership program that teaches girls about air quality, pollution and deforestation. The girls were encouraged to be courageous in their learning.
"This is an all-girl environment where girls feel free to raise their hand and answer questions, guess, get it wrong, and try again. It's really cool to watch 20 hands go up. Oftentimes, in a boy and girl classroom, the girls' hands are down and the boys' hands are up. This is a safe environment for them to try and guess. It's been really cool to see them grow throughout these couple of days," said Ashley Barr, director of programs for GSNETX.