Exploring STEM careers for girls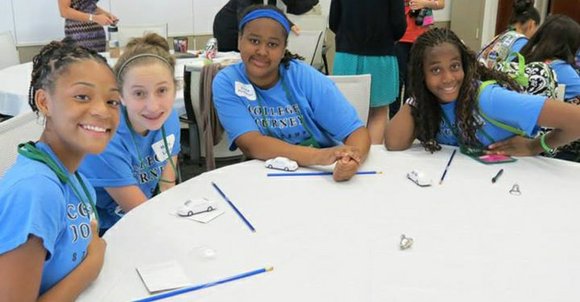 At the beginning of the week, the girls went to the Perot Museum for a scavenger hunt to learn about the different fields of science. They learned about Amelia Earhart, the first female pilot to fly solo across the Atlantic Ocean, at the Frontiers of Flight Museum.
Later on, the girls met with women STEM professionals working for Southwest Airlines, Texas Instruments, AT&T and the FBI, and heard them speak about their careers. Women college students majoring in science and engineering also gave details about their fields of study. Some activities for the girls included fingerprint testing, blood splatter analysis, DNA testing, and modifying model helicopters to determine what makes them go faster or slower.
By building kites and making cookie solar ovens, the girls studied aerodynamics and solar energy. They visited the Encana Corporation, a natural gas company, and discovered ways to reduce air pollution.
To conclude the week, the girls did Breathe Journey exercises and planned a Take Action project. A Take Action project is an activity that teaches and prepares girls to be leaders in their communities.
Working in teams, the girls analyzed topics they learned throughout the week and brainstormed ways they could apply those lessons to solving problems in their communities. In the future, the girls will have to connect with community members to implement the changes discussed.
One girl from Southern Dallas found the week to be fun and inspiring.
"I think it's fun. It has a lot of opportunities and has a lot of things that we can be interested in when we grow up, like engineering and stuff," said Chloe Frasier, a 12-year-old going to the eighth grade, who hopes to become an engineer or architect.
Another girl from Southern Dallas found the activities to be eye-opening.
"My favorite activity was going to the Perot Museum. It had a lot of fun stuff. We saw how energy was being made. I didn't know that [energy] is in the ocean, like ocean waves energy," said Talani Baker, an 11-year-old going to the seventh grade.
Talani said that before participating in the activities, she had already dreamed of becoming a zoologist. However, she expressed that the activities made her want to pursue that dream even more.
Reflecting over the week, Gordon believed it was a success.
"I think it has opened their eyes to what opportunities are out there that they may not have thought of. I think they've found that they can do more than they thought they could do, and that they're actually better at some activities that they may not have anticipated themselves doing," she said.
To participate in the week, girls had to sign up on a first-come-first-serve basis. Over 100 girls attended. Completing the week was a way that girls could work towards obtaining their Silver Award, which is the highest award a cadette can earn. The award represents a "Cadette's accomplishments in Girl Scouting and in her community as she works to improve her life and the lives of others."
Z
Senior/Ambassador Week will begin July 21 for high school girls to participate in college-level STEM-related projects. They will also take a trip to Frito Lay to meet food scientists and chemists.