Mary Alice Thatch: From 'janitor' to Publisher of the Year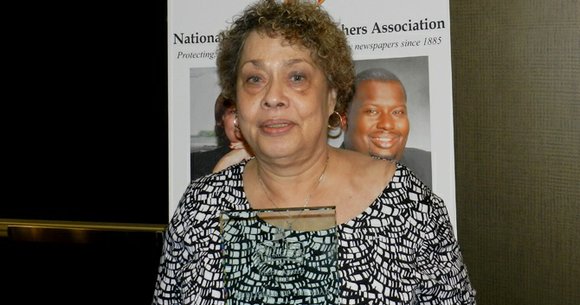 WASHINGTON (NNPA) – If the Wilmington Journal ever holds a contest to determine who began work there at the youngest age, Mary Alice Jervay Thatch would win hands down. Literally.
"My daddy used to say that I started at 3 or 4 months old, when I started crawling around on the floor," Thatch recounted with a hearty laugh. "I was hired as the janitor to clean the floor – with my diaper."
Thatch is now editor-publisher-owner of the newspaper, the same positions her father, Thomas C. Jervay Sr., held when she was scooting around the office.
She shared, not only a love for journalism with her father, but a strong sense of devotion to the community the Wilmington Journal serves.
The Journal is across the street from where Alex Manley edited another Black newspaper, the Daily Record, in the late 1890s.
Wilmington was a hotbed of White supremacy. Right-wing Whites rioted in 1898 and forced elected officials from office in the only recorded government coup d'état in U.S. history. A group calling itself the Committee of Twenty-Five issued a document on Nov. 9 of that year called the White Declaration of Independence. It contended that the U.S. Constitution had never anticipated the "enfranchisement of an ignorant population of African origin" and that "the men of the state of North Carolina who joined the union did not contemplate for their descendants a subjection to an inferior race."
According to an account of that period by an Albany, N.Y.-based research group called Filling in the Gaps in American History, "In August, Black newspaperman, Alex Manley, wrote an editorial in response to a speech supporting the lynching of Black men as a deterrent, as well as punishment for their interest in White women. His comments about White men lusting after Black women were the subject of heated talk among all communities. One of the loudest voices was that of Alfred Moore Waddell, a former Confederate Officer and Democratic U.S. Congressman. He wanted to oust Republicans and Populists from local and state government in the upcoming election. Waddell used Manley's editorial to incite anger towards people of African descent being allowed to vote, let alone hold public office and implored White citizens to 'choke the Cape Fear with carcasses' if need be to remove the Republicans in power during the 1898 elections."
The account of the Wilmington Riot continued: "On November 10, hundreds of White men met at the armory and headed to the building which housed the only daily Black newspaper in the country. Manley had gotten word of the intended action and had already left town. He was able to relocate and continue his journalism career but never returned to Wilmington. The crowd increased to over a thousand White men, armed with handguns and rifles, as they followed Waddell through the streets of Wilmington. They broke into the Daily Record building, damaged printing equipment, set fires, and watched as the building burned. Later they posed for photographs in front of their handiwork."