Mary Alice Thatch: From 'janitor' to Publisher of the Year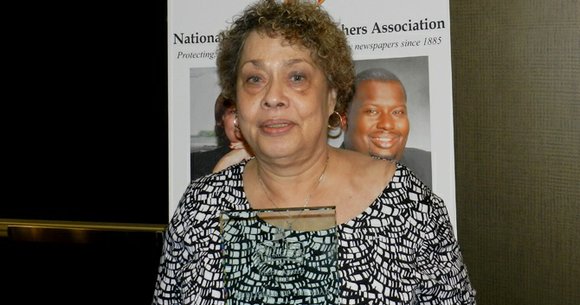 A headline in the New York Herald on Nov. 11, 1898 read: "Whites Kill Negroes and Seize City of Wilmington." The deck just below the headline was, "Nine Black Men are Shot Down. Slaughter Follows Wrecking of the Record Newspaper Office Owned by Negro."
Thomas C. Jervay Sr., an outspoken supporter of the falsely convicted Wilmington 10, never forgot about the path Manley had paved, especially after his own newspaper was bombed in 1973. The bomber wrote a letter to Jervay, which he turned over to prosecutors.
"Mr. Manley's paper was right across the street from where the Journal is housed now," Thatch stated. "Both were bombed because of positions the papers took, which really shows the power of the Black Press."
Recalling her conversations with her father, Thatch said, "He would say, nobody is going to do to me what they did to Manley. I am going to be vocal, I am going to represent my people, I am going to say what I want to say, but nobody is going to run me out of town. This man is going to be prosecuted for what he did."
And he was. In 1974, Lawrence R. Little, who identified himself as propaganda minister of the militant Rights of White People organization, was found guilty of planting dynamite that exploded at the Journal's office. After four days of testimony, an all-White jury found him guilty and a White judge sentenced him to life imprisonment.
An FBI agent testified at the trial that Little had told him, "I have heard about the good Black people. They are all niggers, and all niggers are animals, and animals are beasts, and beasts don't have souls. If you kill a nigger, you haven't committed murder."
Despite hate-mail from White supremacists over the years, Jervay, who served as chairman of the National Newspaper Publishers Association in the 1950s, never tempered his demand for justice and equality. Neither has his daughter, Mary Alice.
At an event in 2011, commemorating the 40th anniversary of the Wilmington 10's false convictions, Louis Hines, a local International Longshoreman Association official, issued a challenge.
"He said, 'There are two things we have got to do in Wilmington,'" recalled Mary Alice Thatch, who was in the audience. "'And those two things are to seek compensation for these 10 folks, and we've got to always make sure that the doors of the Wilmington Journal are open.'"
The next day, in a meeting in her office, Thatch told several members of the Wilmington 10: "I don't know how we're going to do it, but we're going to do it. I'm going to take this to somebody much bigger than I. I cannot do this by myself in Wilmington, but I promise you that I will get somebody that can help us."
And she did.
"The next day or the day after, I was talking to Dorothy [Leavell]," Thatch recalled. "I was serving on the NNPA Foundation Board at the time. I was secretary, and she was chairperson of the foundation. I was talking about what had been said, and she said, 'That's an NNPA project.' I said, 'If you say so.' She talked to Danny [Bakewell, then chairman of the NNPA] and the rest is history."