Black pastors: Be aware and beware
The Afro-American Newspaper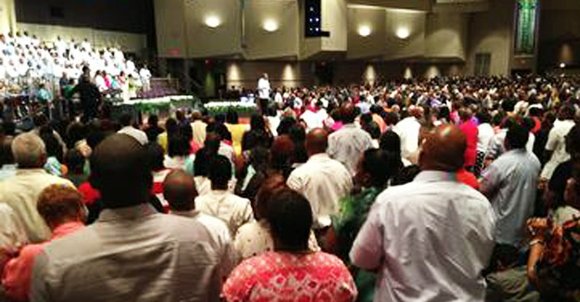 (NNPA) – Rev. John R. Jenkins Jr. looked out at the congregation of First Baptist Church of Glendarden and sighed.
Less than 12 hours after jurors in Sanford, Fla., found George Zimmerman not guilty in the fatal shooting of unarmed Black teenager Trayvon Martin, he was having "trouble" coming to terms with the verdict and what it meant for justice, and righteousness, or the lack thereof, in this country.
Though the church celebrated its annual Music and Arts Ministry on Sunday, Jenkins had a heavy heart. His topic for the day was "Directions for Troubled Times."
"I was speechless," Jenkins told his audience about his reaction to the verdict. "It took the breath out of me."
Jenkins said he found particularly disturbing statements made by one of Zimmerman's defenders. "I heard the man's lawyer say he did nothing wrong … I heard the killer's lawyer say [Martin] used the concrete as a weapon."
At one point, tears began to roll down his cheeks.
Even for men and women accustomed to explaining evil and wrong, the verdict that freed Zimmerman proved difficult. Jenkins and several other pastors from Baltimore to the metropolitan Washington area decried the verdict July 14 and urged their members to understand that the verdict indicated that Black life was not as valuable as White life, despite some race gains over the last 50 years.
While some Americans believe the verdict delivered by the six-woman jury was just, many Blacks found it implausible that the jurors could acquit Zimmerman in the 2012 slaying of Martin, 17.
Rev. Dr. Beryl Whipple, pastor of Asbury United Methodist Church in White Marsh, near Baltimore, said he was not surprised by the jurors' decision.
"This is a wake-up call not just for America, but for African Americans," he said.
"This is a call to finally put an end to the senseless violence and be active in their community to make sure a tragedy like this never happens again."
Whipple, like Jenkins, heard the verdict on television.
"I was watching CNN at home," he said. "I don't think he was innocent … Zimmerman killed a minor. In this case, we missed the mark on our opportunity for justice. I can only assume they came to that verdict based on their own life experience … They sided more with the community watch patrol officer than the young man trying to get home."
Rev. Grady Yeargin, pastor of City Temple Baptist Church of Baltimore, preached in a hoodie, the morning after the verdict, as did Rev. Tony Lee, pastor of Community of Hope AME Church in Temple Hills in Prince George's County.
Martin was wearing a hoodie on the night Zimmerman reported him to police as a suspicious person, then followed, fought with, and fatally shot the youth.
"When you have great progress, there is always great pushback," Lee told his congregation. "We want to act like we're in this post-racial society where everything is 'Howdy, howdy' and everything is all good. Just because you found you have a Black woman, Black man, Black baby girls, a Black dog and a Black grandmamma in the White House, you thought it was a post-racial society."