Black pastors: Be aware and beware
The Afro-American Newspaper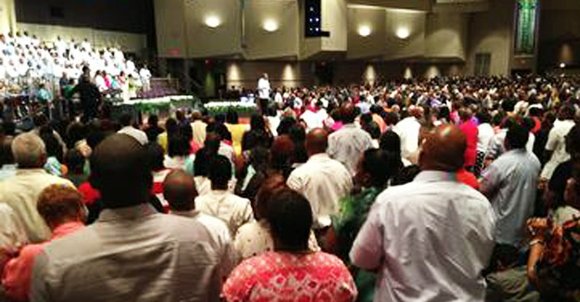 Several pastors said they believe race figured in the verdict, just as it did in the shooting and the investigation by law enforcement officials in Sanford, Fla., where Martin was killed.
Martin was "racially profiled from the beginning" to the end of the case, Whipple said.
"With this verdict, it showed that in the 21st century, we haven't really moved forward as we should have it terms of racism," he said. "We didn't have justice in this case."
Like Jenkins, he took offense at the idea that Martin had assaulted Zimmerman during the fight that ensued after Zimmerman refused a police dispatcher's order to stay inside his car and followed and confronted the youth. Martin was returning to his father's home in the community after going to the store to buy snacks.
"Travon Martin was trying not to get shot, he didn't use the concrete as a weapon," Whipple said.
At Turner Memorial AME Church in Hyattsville, the Rev. William H. Lamar IV asked his members to call out the names of the Black men they love – children, brothers, fathers, uncles, cousins, etc.
"I'm very clear that this nation continues to tell us that America does not value Black flesh the way it values the flesh of others," Lamar told the Afro after the service. "My whole context was that our ancestors were true freedom fighters, but we are asleep at the wheel. We have confused civil rights victories with the ultimate victory of the freedom struggle. And [Supreme Court Chief] Justice John Roberts told us in the recent decision [on the Voting Rights Act] that they do not even intend to let us keep our civil rights."
Jenkins, who preached from Psalms 27:1-6, urged his members to continue to praise through the troubled times, as well. The congregation, led by the male chorus and praise and worship team, sang a lengthy rendition of Psalm 3:3.
"For thou, Oh Lord, are a shield for me. A glory and the lifter-up of my head … I will not be afraid of ten thousands of people who set themselves against me round about," they sang.
Be encouraged and continue to pray, Jenkins told his members.
"Although the world is ugly, we serve a beautiful God."
Teria Rogers contributed to this report.