National protests of Zimmerman verdict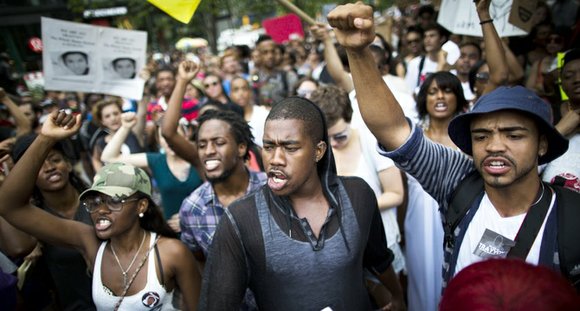 WASHINGTON (NNPA) – Demonstrations are planned for 100 cities this Saturday to protest George Zimmerman's acquittal for murder and manslaughter in connection with the fatal shooting of 17-year-old Trayvon Martin in Sanford, Fla., and to urge the Justice Department to investigate whether Martin's civil rights were violated.
On Saturday night, an all-female jury acquitted Zimmerman of all charges, freeing him from further criminal prosecution in Florida.
At a rally in front of the Justice Department Tuesday, Rev. Al Sharpton, president of the National Action Network, announced that rallies and prayer vigils will take place in 100 cities on Saturday to add pressure on the Justice Department to bring a civil rights abuse case against Zimmerman.
Speaking at the centennial celebration of Delta Sigma Theta sorority in Washington on Monday, Holder said, the Justice Department would "continue to act in a manner that is consistent with the facts and the law."
He said, "We are determined to meet division and confusion with understanding and compassion – and also with truth. We are resolved, as you are, to combat violence involving or directed at young people, to prevent future tragedies and to deal with the underlying attitudes, mistaken beliefs and stereotypes that serve as the basis for these too common incidents. And we will never stop working to ensure that – in every case, in every circumstance, and in every community – justice must be done."
Holder addressed the annual convention of the NAACP Tuesday in Orlando, not far from where Martin was killed by Zimmerman as he returned from a nearby convenience store to purchase a bag of Skittles and a can of ice tea.
Benjamin Crump, the lead attorney for the Martin family, said Zimmerman racially profiled Martin because he was an African American youth dressed in a hoodie-style sweat shirt.
"That's profiling. And there's a big question whether that's allowed, and so I think the Justice Department should look at that," he said on CNN's New Day.
Crump, who has likened Martin's death to those of civil rights icons Medgar Evers and Emmett Till, told reporters that the dead teenager's parents, Tracy Martin and Sybrina Fulton, will weigh their options about whether to file a wrongful death civil lawsuit against Zimmerman. He said Fulton was devastated by the verdict.
"She cried, she prayed to God, and then she cried some more," Crump recounted. "She said, 'I will not let this verdict define Trayvon. We will define our son Trayvon's legacy.'"
Since the verdict, there have been dozens of demonstrations across the country, most of them peaceful. More than 2,000 distraught demonstrators gathered in front of the CNN Center in Atlanta. At a demonstration in front of the Justice Department Monday, Rev. Anthony Evans, president of the National Black Church Initiative said, "We want the Justice Department to assure that other African American males will not be killed because they ran into a White American who was afraid of their presence."
In one of the rare demonstrations involving violence, a few protesters hurled flashlight batteries, rocks and chunks of concrete toward police in Los Angeles. Police responded by shooting bean bags at the unruly protesters. Less than a dozen people were arrested at the otherwise peaceful rally.