National protests of Zimmerman verdict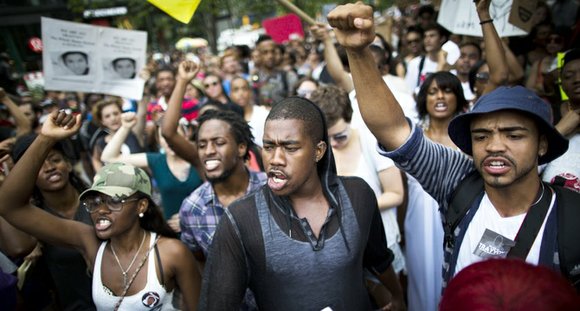 At emotional rallies around the nation, some protesters carried bags of Skittles, the candy that Martin bought just minutes before his death on that rainy night, and others wore hoodies, a garment Martin was wearing when he was killed.
"Like many Americans, particularly African Americans, I am deeply disappointed that George Zimmerman has been acquitted of murder and manslaughter charges and is now enjoying his freedom after killing an unarmed, 17-year-old Trayvon Martin whose only 'crime' was walking while Black," National Newspaper Publishers Association Chairman Cloves Campbell Jr., publisher of the Arizona Informant, said in a statement.
"Because of Zimmerman's unjustified actions, Martin, who was returning from a trip to a local convenience store when he was profiled by Zimmerman, will never get the chance to celebrate another birthday or experience the joy of earning a high school or college diploma or to even be hugged or kissed by his loving parents. His young life was taken away by a neighborhood watch captain who kept a close watch on African Americans who had as much right as he had to be in that Sanford, Fla., neighborhood.
"Zimmerman ended Trayvon's life, but he will not and cannot terminate our unceasing quest to be respected as human beings. We join with the NAACP and other civil rights groups in requesting the United States Department of Justice to continue its investigation into whether Zimmerman violated Trayvon's civil rights when he spewed profanity, followed Trayvon after being told by a police dispatcher not to do so, and fired the fatal shot that killed Trayvon's dreams and those of his family."
Writing on his blog, Sharpton said, "Closely observing the Zimmerman trial, one fact served as a glaring reminder of the insanity of the entire fiasco: Zimmerman never was a cop. He was a citizen who was told by 911 dispatchers not to follow Trayvon; he was told, 'We don't need you to do that.' He, a self-professed community watchman, made assumptions such as, 'This guy looks like he's up to no good or he's on drugs or something.'" Zimmerman even had the audacity to say 'fking punks. These aholes, they always get away.' Well, who are 'they'? The bottom line is, if Zimmerman had not defied the orders of the 911 dispatcher and acted on his own assumptions, Trayvon would be in the loving arms of his parents today."
Zimmerman's parents, Robert and Gladys Zimmerman, granted an interview to ABC News. When asked if his son was a racist, Robert Zimmerman replied: "Absolutely not. He's never been taught to be a racist."
In that same joint interview, from which excerpts were aired on television Monday, Gladys Zimmerman said that if given the opportunity to speak with Martin's parents, she would say: "We are deeply sorry for this tragedy."
Many Martin supporters expressed disappointment with President Obama's statement on the verdict.
In his statement, Obama said: "The death of Trayvon Martin was a tragedy. Not just for his family, or for any one community, but for America. I know this case has elicited strong passions. And in the wake of the verdict, I know those passions may be running even higher.
"But we are a nation of laws, and a jury has spoken. I now ask every American to respect the call for calm reflection from two parents who lost their young son.
"And as we do, we should ask ourselves if we're doing all we can to widen the circle of compassion and understanding in our own communities. We should ask ourselves if we're doing all we can to stem the tide of gun violence that claims too many lives across this country on a daily basis.
"We should ask ourselves, as individuals and as a society, how we can prevent future tragedies like this. As citizens, that's a job for all of us. That's the way to honor Trayvon Martin."
Many Americans, ranging from the well-known and the unknown, have found different ways to honor the memory of the slain youth.
Pop star Beyonce's concert started in Nashville Saturday night about 30 minutes after the Zimmerman verdict. Before beginning her performance she said, "I'd like to have a moment of silence for Trayvon." The stage was darkened for the silent tribute. Beyonce then sang the chorus of I Will Always Love You.