Dallas Fire Engine Involved in Major Accident
7/22/2013, 1:29 a.m.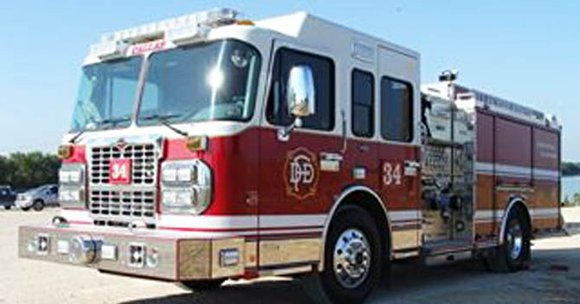 Special to The Dallas Examiner
While en route to a "working structure fire" Thursday morning, a Dallas Fire-Rescue fire engine was involved in a major accident with another vehicle in a South Dallas neighborhood.
Evidently, while traveling southbound on Fordham Avenue, the fire engine was approaching, with its lights and sirens running, behind a 4-door car. The vehicle began slowing down to what firefighters thought to be its yielding to the right-of-way; but unfortunately that wasn't the case. Instead, the car made a left-hand turn directly in front of the engine. The impact pushed the car approximately 100 feet, through a utility pole, before it, and the fire engine, came to rest in the front yard of a residence at the intersection of Easter Avenue.
Though shaken, firefighters were able to get out of the engine and assist with the extrication of the individual driving the car. Though he appeared to be okay, and was communicating with rescuers, he was transported to a local hospital for further evaluation, where his current condition is unknown. The house on the property where the engine came to rest was not struck, and the four firefighters in the engine were unharmed.
In response to the accident, fire dispatchers quickly assigned another unit to the original call the engine was responding to on Exeter Avenue; but thankfully, it was a small fire that was quickly extinguished. They also sent an emergency response to the accident itself.
According to Oncor, despite the utility pole's involvement, only one to four customers lost power to their homes and a replacement pole has already been put in place.
Though the Dallas Police Department is still investigating details leading up to the accident, DFR has reiterated its public message to the public; when they see an emergency vehicle approaching , to yield to the right-of way by pulling over to the right-hand side of the road and coming to a complete stop.