Kevin Hart: Let Me Explain
Movie Review –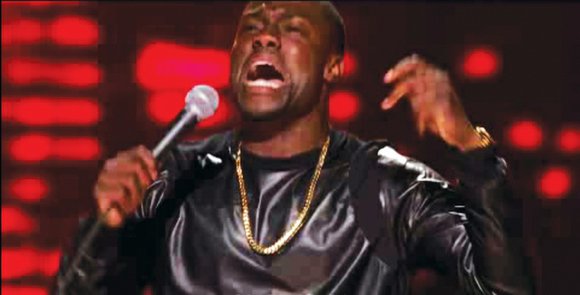 "I went to go see Kanye and Jay-Z perform," Kevin Hart announced as he took the stage. "These … had a bunch of fire. I'm about to be the first comedian with some … fire." Suddenly, fire sprays up along the back of the stage.
"This show is gonna be hot … literally," Hart said, followed by laughter throughout the audiences at Madison Square Garden and a Dallas movie theater during a screening of Hart's new stand-up comedy Let Me Explain on June 1.
The new movie was "hot" indeed – full of hilarious jokes that will have one laughing all the way through.
The movie began with a mix and mingle event hosted by Hart, where he is talked to badly by various folks and a seemingly drunk man used colorful words to ridicule him about being a local comedian.
Hart, taken aback by the hilarious comments about him at his own event, took off to a secluded place in the building to fully take in what he had just heard.
To prove everyone wrong, he sets out to show them that he is not a local comedian, a sell-out, among other things, and he demands his manager to book him a show at Madison Square Garden in New York – the perfect venue for him to "explain" himself. Several excerpts from the performance were shown on the film.
In his usual obscene humor, Hart takes the audience through a well-connected "explanation" of different events that have occurred [and could occur] in his life. He first shows a slideshow of different places he has performed internationally, showing snippets of those shows and experiences with fans.
After his worldwide acclaim is established, Hart then talks about the disadvantages of being married and his recent divorce, which he admittedly and unremorsefully was the cause of. He further attributes his marriage troubles to incriminating statements made by his friends when his ex-wife could hear them through their car's Bluetooth feature.
"Oh, no, no, no," Hart said in a childish, troubled voice, shaking his head.
Unsurprisingly, he then talks about being single and dating, particular deranged women, which was also very hilarious.
Hart then jokes about – as he has done in prior stand-ups – being a father, except this time he talks about the harm a father can cause by feeding his child's imagination, particularly when figments are not very useful in real situations, like fist-fights.
He also demonstrates his own embarrassing fist-fights with half-naked, taller men and mobs of homeless people – and the tragedy of letting a homeless person get too close to your facial area. Lastly, Hart's movie contains a hilarious bit about his mistake of hiring a cowardly bodyguard, causing the audience to explode into laughter again.
Without spoiling too much of the show, Hart's closing joke shows why having a good knowledge of horseback riding can come in useful and save one from even more embarrassing moments.
In accomplishing what only very few comedians have done – performing live at Madison Square Garden – Hart's movie builds upon his list of great stand-up performances. With great new material, it guarantees stomach pains due to uncontrollable laughter.
Playing in theaters, the comedy film is filled with colorful language and is Rated R, recommended for mature audiences.