Williams redefines life as a senior citizen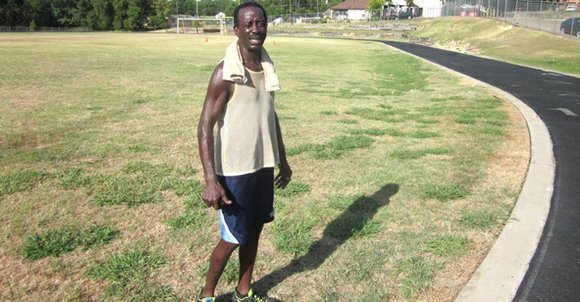 The Dallas Examiner
It's no secret. Generally, people in the United States are living longer, more active lives. Society's ideas of what defines a "senior citizen" are slowly changing. But as local resident Edwin "Roscoe" Williams Jr. proved recently, even at the age of 64, the concept of "slowly" is not a term he has much use for.
Williams, a 1966 graduate of Roosevelt High School and Academy of Health Science, returned to his alma mater Wednesday to demonstrate a feat some have called "inspiring" at a time in his life when most people are preparing to settle down. Accompanied by his family and two Roosevelt coaches, he completed a 40-yard dash that was clocked at five seconds. By comparison, 22-year-old star linebacker Manti Te'o of Notre Dame ran a 40-yard dash in 4.82 seconds at a February scouting event, according to the website for the National Football League.
"I've been running for, probably, about a year," Williams said about his training regimen, adding that he also rides his bike 10 to 20 miles five days a week. "I've been doing that for about the last five or six years, which is about 24,000 miles a year."
At one point he lifted his shirt and proudly showed off his sculpted abdominal muscles. Although the American Heart Association website states that African American men have a greater risk of developing heart disease and other medical issues than do Caucasians, Williams said that during his most recent blood pressure test the examining nurse told him that his numbers were lower than her own. He credits his accomplishments to his reliance on God.
"It's not about me. It's about the Miracle Maker. I'm the proof," he said with a laugh. "The glory goes to God – and I get the earth recognition."
Tight muscles and a low blood pressure don't tell the whole story of his journey. The health hurdles that Williams has had to conquer made his five-second feat even more exceptional.
"I had a ... craniotomy brain surgery. I have a recurring seizure disorder," he said, listing his medical issues. "In 1998, I got my right hip broke from blunt force trauma," which put him in a wheelchair for 30 days. In addition, a small indentation on his lower right leg is a physical reminder of an accidental shooting in 2001 that fractured his fibula and caused nerve damage to his foot.
To Williams, these things were nothing more than temporary setbacks. He also emphasized that age should never be a factor in doing the extraordinary.
"As long as God wakes you up in the morning and you're breathing, then you have time to do it," he emphasized. "No such thing as too late. So forget that. That's a lazy clause if you're just 'too late.' There's no such thing as too late."
His speed and his physical challenges even have the attention of Ripley's Believe It Or Not. In a press release about the undertaking at Roosevelt, it was noted that Edward Meyer, vice president of exhibits and archives at Ripley Entertainment Inc., would document the run. Ultimately, Meyer did not attend the event, nor were Williams' medical records available at that time. However, Meyer did send a statement after the run to verify that they were aware of Williams' run and will "acknowledge it as a Ripley record of great note" and "will certainly be publishing the feat in a future Ripley publication."
With his accomplishment now in the proverbial record book, Williams maintains that he is not ready for the rocking chair just yet. Next year he wants to be the world's fastest 65-year-old. But his goals don't end there.
"I'm going to do a deal on my bike. I'm gonna take my bike to Superdome and run out there, too, after I do this."