A demand for Civil Rights and Justice for All
Rally for Justice speakers insist: Stand up, vote and take charge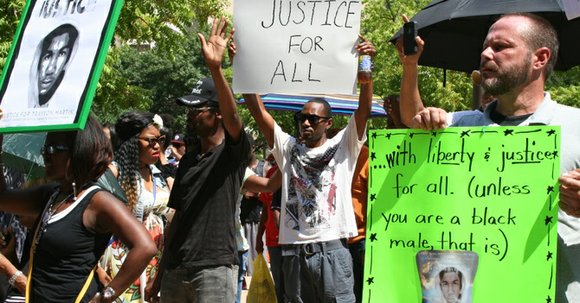 Jones said she hopes rallies like this will get more people involved to fight for justice.
"Hopefully, my presence out here will make more people come out and more people will register to vote," she said. "More people will go to jury duty and we will make a difference."
Rally speakers included Price, Dr. Frederick Haynes of Friendship West Baptist Church; Michael J. Sorrell, president of Paul Quinn College; and Dr. Michael Dyson, a Georgetown professor.
Sorrell said it is going to take a lot of effort to stop tragedies such as Martin's from happening again.
"If we want to stop injustices like this, we need to do three things," Sorrell said. "We have to vote. We can no longer sit around and take for granted that someone else is going to do the work for us. If we don't speak up, then don't be mad that others did. Also, we have to become strategic and think long-term. For example, Paul Quinn College is thinking long-term by starting a scholarship program in honor of Trayvon. And lastly, it is time to get in the arena. It's time for us to run for office and run campaigns. We must stand up."
With the current laws and lawmakers in place, many have expressed concern for their children's safety. Degie Jones, a mother, held a sign with a picture of a Black baby at the event.
"I need my children to be able to live and walk freely in this world without any animosity and without anyone chasing them down and be able to stand their ground," Jones declared. "The Trayvon Martin case was a tragedy and is a modern day lynching."
Brenda Land, past president of the National Council of Negro women of the Dallas Chapter, expressed her distaste for the verdict.
"I can't believe in 2013 that we have this issue in the United States of America," she said. "I am heartbroken for Martin's family. It's just astonishing that in 2013, after all that African Americans have done for this country and for this nation, that we are still at this point. It's unheard of."
Shaunta Buggs rallied with her son Zahad Munford, who attends the Barack Obama Male Leadership Academy.
"The verdict in this case wasn't right at all," he said. "As a young African American male, we are not safe in this community anymore. If you just want to go outside and play basketball with your friends, you don't know who might be waiting outside for you."
Buggs said it was hard for her to explain to her son why Zimmerman was found not guilty.
"It was scary for me to have a son and explain to him why he can't go outside," Buggs said. "You don't know what type of incident may happen. It's a very scary situation."
Andre Riggins, an 11th grader at North Hills Preparatory in Las Colinas, dressed up like Martin when he was murdered. He wore a hoodie and held in his hands a watermelon Arizona Iced Tea along with a bag of Skittles.
"What happened to Trayvon was wrong and I am just trying to show justice for what's right," he said. "Rallies like this are great because everyone is teaming up together all over the United States and someone's going to see this and notice. What happened to Trayvon just goes to show you that it can happen to anybody. You just have to be smart, especially when walking the streets."
Ryan Fowler also expressed concern about youth.
"It's not about me," Fowler said. "It's about Trayvon and our youth. Adults with weapons should not follow minors or adults. We have to protect our youth or we will not have a youth."