We can work together … stop saying that "JUNK"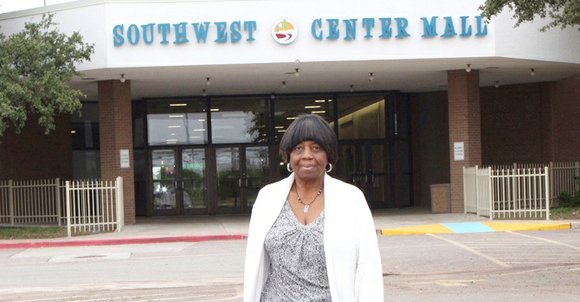 Special to The Dallas Examiner
Today as I walked around the Southwest Center Mall, my heart was saddened because in 2005-2009, we could have purchased the only regional shopping center for $4 million. I went to some business persons to purchase it and they laughed in my face and told me that the mall will fail and be nothing. Now, as I walk the mall and see the traffic flow and see us as consumers in our own community. Now our owners are good, but what a missed opportunity by the Black community to own and operate in a professional manner a mall like we are doing now. You, as Blacks, are running it. In 2009, it was 45 percent occupied, now it's 81 percent and you did it! We are meeting and strategy planning our own Camp Wisdom Corridor future. We don't always agree, but when we take the vote, it's over and we plan our work … and work our plan!
The carpet is new in Footlocker because of Betty Culbreath. MPT Atkins says that if Macy's doesn't have your items, complain, and make them purchase the right items. Stop bragging about not spending your money in your own community (does that make sense). Do what Billie Greer did: Instead of building an "upper class restaurant and outdoor patio" in "uptown" he brought it to you, Oak Cliff, now support him and your community. Ms. Carol Arnold stopped some men from "cussing" in our mall, saying we don't accept that language in our mall.
You, as the Black community, saved the mall, you made this Macy's number one in the district by supporting it, you made this Macy's number two in the region by shopping here. Here's the deal, the next time that you see retail property for sale, bring your pennies together and "BUY." STOP letting outsiders buy up our property and we have no say-so in its development and leaving it empty and put "garbage" in it.
Where are our "Black Deal Makers?" We don't have to agree, but buying retail centers in our own community … makes sense to me! If we have to "duke" it out, let's do that, but Black community; let's buy back our community … and make profit. Is it going to be easy … NO? … and so what?
We have businesses bankers. If the other cultures can trust them to operate the banks, can you not trust them to help us package our business deals. We have business attorneys. Come on people … please don't let another opportunity pass our way again.