Dr. Bernice King: Let freedom ring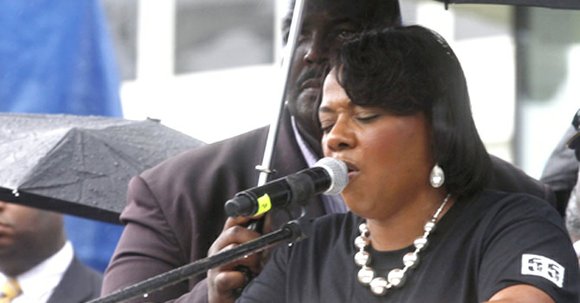 WASHINGTON – At least 15,000 members of Delta Sigma Theta Sorority Inc. were challenged at a social action luncheon to "let justice roll down like waters and righteousness like an ever-flowing stream" on July 15, during the organization's 51st National Convention in Washington, D.C. The program was a part of a week of events celebrating the centennial of the organization's founding in 1913 at Howard University in Washington, D.C.
Dr. Bernice A. King, the youngest child of slain civil rights leader Dr. Martin Luther King Jr., plans to lead the re-enactment of the historic March on Washington on Aug. 28 in celebration of the march's 50th anniversary.
On Aug. 28, 1963, the civil rights leader called for an end to racism in the U.S. on the steps of the Lincoln Memorial in Washington, D.C., to nearly 250,000 supporters. That was also the day when the senior King presented his groundbreaking I have a dream speech.
She urges Americans to set their phones at 3 p.m. (EST) on Aug. 28 and "let freedom ring."
Reflecting on one of the big news stories of the week, the acquittal of George Zimmerman following the death of teen Trayvon Martin, Bernice said, "This is a very important moment in the history of our nation …
"This is a defining moment in the state of my father's dream," said Bernice, chief executive officer of the Martin Luther King Jr. Center in Atlanta. The center was founded by her mother, Coretta Scott King in 1968.
"The reality is, in spite of the verdict, in many respects … it has less to do with Trayvon [Martin], and more to do with all of us. It is no accident that 50 years almost to the date of the prophetic declaration by my father that we would be visited with a situation like this. It is no accident that we would be visited with a decision that occurred from the Supreme Court regarding voters' rights.
"As I think about where we are, my mind takes me back to April 3, 1968. The last words out my father's mouth in terms of a public pronouncement were, 'We've got some difficult days ahead. But it really doesn't matter with me now, because I've been to the mountaintop. And I'd like to live a long life, longevity has its place. But I just wanna do God's will. And he's allowed me to go up to the mountain top. And I've looked over and I've seen the promise land. I may not get there with you, but I want you to know tonight that we as a people will get to the promise land.' Those are the words of a prophet.
"So here we are 50 years later, we [African Americans] have made a lot of strides … But we have not made the progress we thought we should have," she continued. "This is a wake-up call. There are our sisters and brothers and our sons and our daughters who are still suffering in poverty.