Dr. Bernice King: Let freedom ring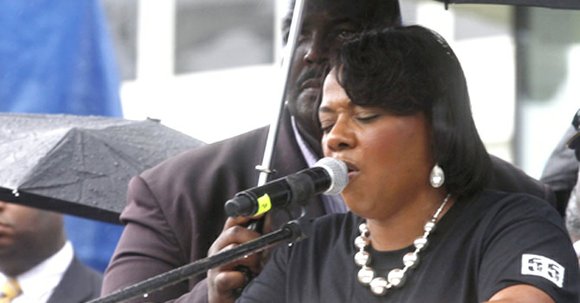 "Don't be like [the character] Rip Van Winkle who goes to sleep and wakes up only to find he has slept through a revolution. It is no accident that you're sitting here with all these Deltas in all this red, you were sent here to cleanse the nation," she said to a roar of applause. "You must roll up your sleeves and be ready to work … If the soul of the nation is going to be saved; it is up to the women. Women need to be the conscience of the nation. And it might as well start with Deltas. God put you here to be like Esther [in the Bible] for such a time as this …"
An ordained minister and the only one of Martin Luther King Jr.'s four children to follow in the Baptist preacher's footsteps, Bernice earned her Master of Divinity degree from Emory University's Candler School of Theology in 1990.
Bernice is a graduate of Spelman College, Atlanta. She earned a Doctorate of Law degree from Emory. She was also awarded an honorary Doctorate of Divinity degree from Wesley College. She is currently a member of the State Bar of Georgia.
Bernice has been featured on such shows as Oprah and BET Talk with Tavis Smiley, and she hosted a live lunchtime show on CNN.
The clergywoman has a strong concern for community and family partnership. She was privileged to serve as a law clerk in the Fulton County juvenile court system under Judge Glenda Hatchett. She is the host of the nationally syndicated Judge Hatchett Show. Bernice said it was there she realized that "a growing number of teens have been double victims – first of society and secondly of an ineffective legal system based in retribution instead of rehabilitation."
Bernice founded "Be a King," whose mission is to re-brand and re-image generations of people, and to elevate the way they think, act, live and lead. In 2007, she launched the first "Be a King Summit" in Montgomery, Ala., on the campus of Alabama State University.
She has also served as a mentor of fifth grade girls of Atlanta in urban communities, where she spent time molding their character and values.