'Food stamps' cuts will hurt poor Black families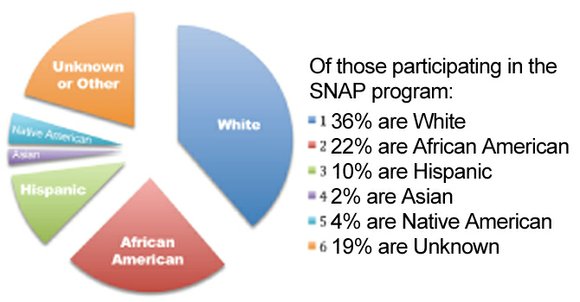 WASHINGTON (NNPA) – Both the House and Senate have passed bills that would reduce funding of the Supplementary Nutrition Assistance Program, formerly called food stamps, but the extent of the cuts will not become known until negotiators from both chambers agree to a compromise measure.
SNAP was reduced as part of a 5-year House farm bill by $2 billon, slightly more than 3 percent. A similar farm bill passed by the Senate would reduce SNAP funding by $400 million a year, about half of 1 percent.
Both actions were taken last week.
By voice vote, the Senate also adopted a separate amendment that would prevent convicted murderers, rapists and pedophiles from receiving food stamps for life.
Robert Greenstein, president of the Center on Budget and Policy Priorities, said the amendment would likely have "strongly racially discriminatory effects."
"The amendment would bar from SNAP, for life, anyone who was ever convicted of one of a specified list of violent crimes at any time – even if they committed the crime decades ago in their youth and have served their sentence, paid their debt to society, and been a good citizen ever since," Greenstein said in a statement.
He continued, "Given the incarceration patterns in the United States, the amendment would have a skewed racial impact. Poor elderly African Americans convicted of a single crime decades ago by segregated Southern juries would be among those hit."
Greenstein's group said the House version would slash $20 billion in spending from the program over the next decade, resulting in nearly 2 million people being kicked off of SNAP if the bill becomes law.
More than 200,000 children would lose free meals at school. Poor families that have managed to scrape together a few thousand dollars for emergencies would get kicked off the program. Other families battling poverty would get kicked off of SNAP for owning a car.
"Many of these families would be forced to choose between owning a reliable car and receiving food assistance to help feed their families," the report by the Center for Budget and Policy Priorities said.
The report also said, "The bill's SNAP cuts would come on top of an across-the-board reduction in benefits that every SNAP recipient will experience starting November 1, 2013. On that date, the increase in SNAP benefits established by the American Reinvestment and Recovery Act will end, resulting in a loss of approximately $25 in monthly SNAP benefits for a family of four. Placing the SNAP cuts in this farm bill on top of the benefit cuts that will take effect in November is likely to put substantial numbers of poor families at risk of food insecurity."
According to experts, SNAP not only helps families keep food on the table, but also boosts the economy as low-income households pour money into the economy.
Feeding America, a domestic hunger-relief charity, reported that 1 in 4 Black households live with food insecurity issues compared to 1 in 10 White households. Thirty-two percent of Black children don't have adequate access to food compared to 16 percent of White children.