'Food stamps' cuts will hurt poor Black families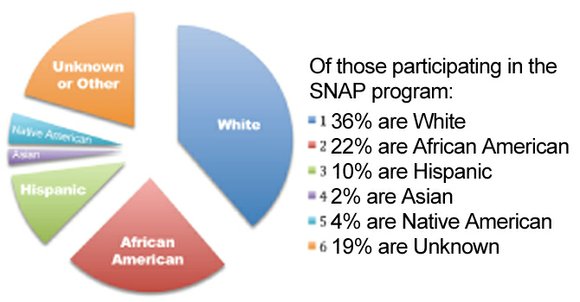 Republicans who supported the House Agriculture Committee bill lambasted the current spending levels in the program and Rep. Steve King, R-Iowa, said that the growth in the program was responsible for expanding a "dependency class."
A report by the Center for Budget and Policy Priorities published March 2013, titled "SNAP Is Effective and Efficient," found a more likely culprit: the Great Recession.
"The number of people eligible for SNAP increased because of the recession and lagging recovery," the report stated. "The number of people with income below 130 percent of poverty (the SNAP income limit) increased substantially, from 54 million in 2007, before the recession, to 60 million in 2009 and 64 million in 2011, allowing more households to qualify for help from the program."
The Center report also found that, "The recent growth in SNAP spending is temporary. The Congressional Budget Office predicts that SNAP spending will fall as a share of Gross Domestic Product in coming years as the economy recovers and the Recovery Act provisions end."
Amelia Kegan, a senior policy analyst at Bread for the World, a faith-based international organization that works to end hunger, said that SNAP's ability to automatically adjust to meet the need of Americans struggling through the recession shows that the program is working.
"The food stamp program, the child nutrition program, and the school lunch programs were able to automatically respond and expand to address the spike in need," Kegan said. "As the economy recovers and more people get back to work and don't need these programs anymore, participation falls."
Feeding America reported that more White households are food insecure than Black households, but the rate of food insecurity in Black households is twice as high. Whites also make up roughly 36 percent of people that use SNAP. Blacks account for 22 percent.
This concerns many advocates that say more Blacks need to be educated about the program that could play a critical role in helping them to escape poverty.
"One major concern that I have within the African American community is that many people don't have direct access to the program. They are not sure about the program," said Brian Banks, director of public policy and community outreach for the Capital Area Food Bank. "They don't understand that the program is there to help and support them."
Banks said that the proposed cuts to the safety net program are disheartening.
"This is the wrong time to cut this program, the biggest safety net program in America," said Banks. "We're talking about your neighbors, your grandparents, your colleagues. You'd be surprised by who's suffering from hunger."
Banks added: "The federal government is in place and should have the will to support people without hurting them. People are struggling and if we cut programs that are helping them, where are they going to go to get assistance?"