The Villager hosts evening of stars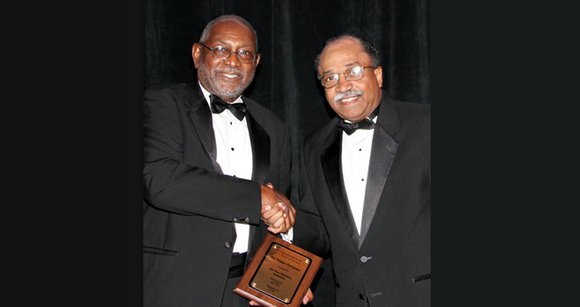 Celebrating a milestone of achievement and success is always a glorious moment. May 11 was definitely a night you did not want to miss. Countless Austinites and distinguished dignitaries congregated at the Sheraton Hotel at the Capitol for an evening of Black, White and Read All Over, commemorating The Villager newspaper on their 40th anniversary. Tommy Wyatt, publisher, was honored with an iconic roast, toast and tributes by Austin's most-noted citizens.
In attendance was Honorable Mayor Pro Tem Sheryl Cole, Former City Council Member Hon. Charles Urdy, Chair of National Newspaper Publishers Association Cloves Campbell, Vice President of the Division of Diversity and Community Engagement at the University of Texas at Austin Dr. Gregory Vincent, Atty. James Belt Jr. of the Texas Publishers Association, U.S. Congressman Lloyd Doggett, and Former Youth Brigade member Yaphet Smith.
Taking the podium one by one, they shared stories of their fondest memories and unforgettable encounters with Wyatt. Honorary hosts were the Honorable Berl Handcox, Hon. Wilhelmina Delco, Larry Jackson, Willie Mae Kirk and Ada C. Anderson. Live entertainment and musical tribute were performed by the Pamela Hart Quintet and an amazing accolade duet by former Youth Brigader Tayla Terry and her mother Cheryl Terry. Also in attendance was Austin-native and celebrity, actor Mehcad Brooks.