Cedar Hill ISD's response to molested students sparks community outrage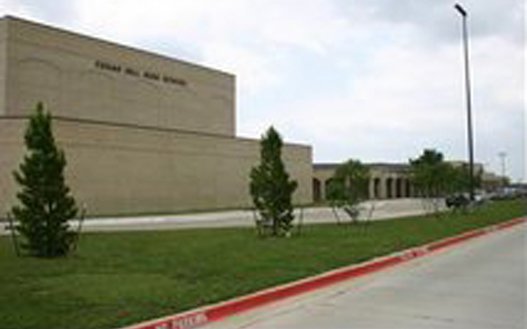 The Dallas Examiner
Cedar Hill community members convened in a town hall meeting at Graceland Community Baptist Church on May 14 to express their concerns about the safety of children in the Cedar Hill Independent School District.
The meeting was held in response to the recent arrest of teacher, Marlena Mints, 31, for the alleged sexual assaults of middle school boys at Bessie Coleman Middle School and her home. She was a health teacher and coach at the school.
Civil rights activist Rev. Kyev Tatum was asked to facilitate the meeting.
Members voiced their frustrations with the district's refusal to discuss the methods utilized by the district to prevent child molestation in schools.
"We have tried to communicate with the administration, but they have said very clearly that they're not going to speak on this subject," Tatum told members.
The district released a statement saying it was in cooperation with Cedar Hill police and would not be answering questions or releasing information due to the ongoing investigation of Mints, who was placed on administrative leave on April 30, the day she was arrested.
In addition, the statement reminded parents that a letter detailing the allegations had been previously sent home with students. However, some members complained the letter was vague and offered little insight into what the district was doing to prevent future child predation. Other members said they never received a letter.
Right after Mints' arrest, the district told parents that child safety measures would be discussed at the next school board meeting. Nevertheless, parents who attended the board meeting said that child safety measures were never mentioned, only bond dollars for a new baseball field.
"I assure you that they planned that bond committee out, had committee meetings, invited the stakeholders, invited the powers that be, and they sat around that table and worked out their differences until all found something they could agree upon. Guess what, they need to create the same kind of process to address the safety and security of our children from child molesters," Tatum said.
He warned members that the district's lack of attention towards the issue could actually be an attempt to isolate and deal separately with Mints' case instead of targeting the root problem.
"What we're finding out is that they're trying to make these cases of molestations isolated and individualized. The district is not taking any responsibility for the people they've hired and supposedly vetted to work with our children. They want to abdicate their responsibility and put it off on everyone else, including the police department, as a cover, so that that they will not have to respond to your sincere issues and sincere concerns," Tatum said.
Members also expressed concerns about teachers with previous offenses in one district being allowed to teach in another district.
"If they're caught, they prosecute. If they're not caught, they allow them to move on, keep their teaching credentials, and move into another district that's less profiled and continue the same behavior," Tatum said.
One parent gave an example of how her daughter was physically assaulted by a teacher that had a list of offenses against him in DISD, but was moved to CHISD. The teacher still works in CHISD.
When asked how they should proceed after the meeting, Tatum said with diplomacy.
"We like to use diplomacy so that we can reduce the amount of exposure to our children. They've been exposed enough. However, when diplomacy doesn't work, you have to get someone to arbitrate the situation. What we're saying is if the district will not come and sit down and talk to us, we'll use those tools that are made available to us to get them to come sit down and talk to us," Tatum said.
Tatum informed members that they could go to school administrators and demand that this happen. However, considering the district's current position, he encouraged members to consider one of three options: file a state grievance, federal grievance or class action lawsuit.
Members decided to file a class action lawsuit. An attorney willing to do it pro bono has already come forward.