Flying like an Eagle
Lincoln High student earns Eagle Scout rank
MIKE McGEE | 6/4/2013, 7:46 p.m. | Updated on 6/11/2013, 12:11 p.m.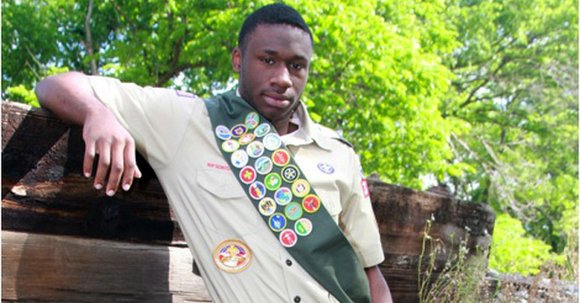 The Dallas Examiner
Noel Martin is a young man with goals.
Having recently earned the rank of Eagle Scout in the Boys Scouts of America, this Lincoln High School senior is in the esteemed company of numerous CEOs, scientists, military leaders and even a U.S. president who have earned the honor before him. Those are the kind of men that Martin, 18, wants to emulate.
While he takes great pride in his ability to survive in the wilderness thanks to Scouting, he knows the lessons he's learned during his time with BSA Troop 3223 translate far beyond the boundaries of a campsite.
"[Scouting] taught me how to be prepared for any- and everything, no matter what happened." About the overall experience he has had in the Boy Scouts, he said "I can take this and use this as a life experience, you know."
Martin's beginning with the Boy Scouts started with something that most children could probably relate to: in the sixth grade his parents made him join.
"To be honest with you, when I first started I was forced to get in it," he admitted, with slight embarrassment.
Driving down the street, his mother Linda Martin saw a sign for the Boys Scouts. Martin was signed up soon after. His resistance didn't last long, however.
"It started to become pretty fun for me," he said. The group activities and camping that the Boy Scouts offered were the right fit for him. "I was learning how to do things, and I'm a hands-on kind of kid, so that was the interesting part to me."
Every potential Eagle Scout must go through five other ranks within the organization and earn 21 merit badges before being eligible for the rank of Eagle Scout. There are also the requirements of six months of troop leadership, taking part in a Scoutmaster conference, the creation and implementation of a community service project, and, finally, an Eagle Scout board of review. Only about 7 percent of all Boy Scouts earned the Eagle Scout rank in 2012, according to the Boy Scouts of America.
As vice president of the choir at Lincoln, Martin chose a task that was near to his heart for his Eagle Scout project, and decided to renovate the school's choir room.
He had his work cut out for him. The choir room was full of old furniture and graffiti scrawled onto the plain white walls. It was transformed into a practice space that appeared welcoming and functional.
"It started out good," Martin said about the project. "But it started getting stressful for me because time was short."
Donations from family members and a movie night at his church brought in funds that enabled Martin to remodel both the practice room and choir director's office. The job took three days of constant work, from covering the walls with new fabric to building wooden furniture using volunteer labor.
He thought back on the finished project with a sense of satisfaction and noted, "I did pretty good."