Flying like an Eagle
Lincoln High student earns Eagle Scout rank
MIKE McGEE | 6/4/2013, 7:46 p.m. | Updated on 6/11/2013, 12:11 p.m.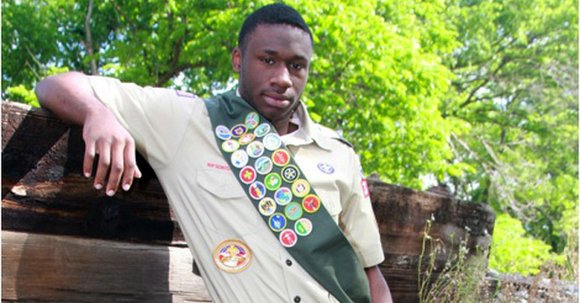 He recalls his Scouting activities led to some sacrifices on his part.
"Time," Martin admits was his biggest struggle. "Time, time …"
Besides Scouting and choir, Martin was named Mr. Lincoln, serves as percussion section leader in band, and is an executive officer in ROTC. Juggling his schedule to complete the project was a big hurdle.
"I've been having to bang my head against the wall just to figure how I'm going to do this," he remarked.
Yet Scouting was the right program for their active son, said Linda and his father, Joe Martin.
"It had something to calm him down and also give him a lot of work ethics and values," she said. "So we're very, very proud of him. He's come a long, long way."
Martin is thankful that his parents set him on the Scouting path. He believes without it, and his parent's support, that his life might be very different. He has a direction now, he said, a roadmap towards his future goals that the Boy Scouts helped provide.
Work in earning his camping, cooking, automotive and music badges helped give him an extra edge towards future endeavors, he said.
"I plan on going into the military," Martin mentioned, wanting to try his hand at becoming a Navy cook. A career in music is his ultimate goal. "I love music; music and teaching. I want to be either a band director or choir director. When I get a job, I will be able to demonstrate leadership abilities because I had a leadership position in Boy Scouts."
His Eagle Scout ceremony will be held Sunday at 3 p.m. at the Porter C. M. E. Temple, 3233 Hatcher St.