Autism often goes undetected in Black children
Freddie Allen | 6/16/2013, 7:35 p.m. | Updated on 6/17/2013, 6:32 p.m.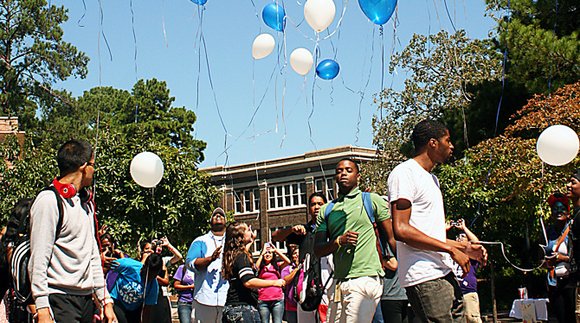 WASHINGTON (NNPA) – Areva Martin watched her youngest child play with growing concern. Marty was almost 18 months old and he didn't play like other kids his age. Instead of racing toy cars on a track or across the floor, Marty would organize them in lines. He did the same thing with crayons. Instead of scribbling on paper or trying to color, he would just line them up. Marty played obsessively with random objects that he would find around the house: a house shoe, a cup or a spoon would consume hours of playtime. But Martin, a lawyer living in Los Angeles, was most concerned about his speech.
"The first thing that came to my mind was, 'This kid isn't speaking, so let's get him to a speech therapist,'" she said. After several months with a speech therapist, and no signs of improvement, Martin took her son to a
developmental pediatrician. That's when she learned that Marty was autistic.
"I knew very little about autism. I wasn't even thinking about autism," Martin said. "It wasn't even a word in my vocabulary."
Martin was devastated when she got the news, but then the lawyer in her kicked in. Martin needed to fix the problem, to get her son a cure as soon as possible, but the mother of three quickly learned that there is no cure for autism and researchers are still working on what causes the developmental disorder.
The Centers for Disease Control and Prevention defines autism spectral disorders as "a group of developmental disabilities that can cause significant social, communication and behavioral challenges."
Children with ASD can progress normally, then start losing skills or stop learning new ones. Other signs of ASD include delayed speech and language skills, flapping hands, or spinning in circles. Some toddlers won't point at things or respond when their names are called.
CDC reported that 1 in 88 children were diagnosed with autism in 2008. According to a CDC study, 1 in 98 Black children were diagnosed with ASD compared to 1 in 83 White children. Between 2002 and 2008, Black children experienced a 91 percent increase in ASD diagnoses, compared to a 70 percent increase in ASD diagnoses for White children.
Researchers found that the increased rate of ASD diagnoses in children was in part related to increased awareness and changes in how ASDs are identified. Although the CDC found that more children are getting diagnosed before they reach 4 years of age, most are still diagnosed between 4 years of age and 5. Researchers have found that minority children are often diagnosed much later.
Marty was diagnosed at 2 years old, but most Black children lag behind their peers when it comes to early intervention for ASDs.
Cultural differences can also have an impact on when and if minorities get the right treatment.
"There's a hesitation in our community to talk openly about mental health issues and developmental disabilities and autism was no different," Martin said.
"In some families there is a hierarchy of the decision-making. The grandmother of the child insists that the child is fine or the father insists that the child is fine," said Rebecca Landa, director of the Center for Autism and Related Disorders at Kennedy Krieger Institute in Baltimore. "The mother in those situations is in a bit more of a complex family situation, politically, where she may be viewed as disrespectful if she says 'I really do think something is wrong here.'"