Power Rangers visit Bowie Elementary students
UBA OKEREKE | 6/16/2013, 7:09 p.m.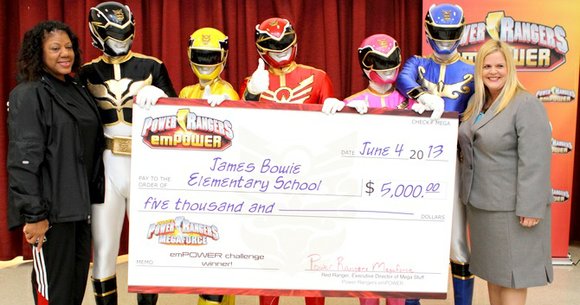 The Dallas Examiner
James Bowie Elementary School was presented with a $5,000 donation last week from Haim Saban's Power Rangers Megaforce as the winning school of the emPOWER Challenge!, a Power Rangers in-school enrichment program.
The superhero group energized the crowd of more than 250 students and teachers during a school assembly with "Ranger Training" exercises and inspiration to eat right and "Train like a Ranger!"
The winner of this year's emPOWER Challenge! Sweepstakes was Sharon Foster, a physical education teacher at the school. Foster leads multiple healthy school initiatives while also managing an active wellness council. Her dedication has earned her a national award from first lady Michelle Obama.
"We are pleased to present James Bowie Elementary with this donation, as we know it will further enhance their many efforts to encourage kids to be active and make healthy choices," said Elie Dekel, president of Saban Brands, in a statement released to the press.
The Power Rangers emPOWER Challenge program has been active in more than 30 metropolitan areas, with more than 130,000 teachers and close to five million students participating.
The initiative provided teacher-approved in-class activities for grades first through third to inspire kids to eat healthy, exercise and develop teamwork skills and confidence. In addition, the program provides resources, recipes and tips for parents to become the solution for ending childhood obesity. The Power Rangers emPOWER program is built on a strong 20-year history of Saban's commitment to pro-social content beginning with the Power Rangers' public service announcements and anti-bullying initiative in the 1990s.
For more information on the Power Rangers emPOWER program, visit http://www.empower.powerrangers.com.