Cicely Tyson wins a Tony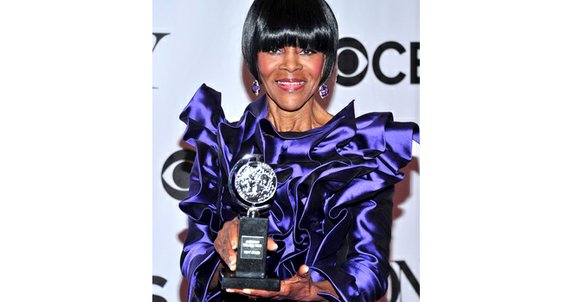 NEW YORK – Cicely Tyson, who returned to Broadway this season for the first time in 30 years, took home the Tony Award for Best Leading Actress in a Play.
In Horton Foote's The Trip to Bountiful, set in 1953, Tyson played Carrie Watts, an active widow who lives in a small Houston apartment with her son and daughter-in-law, played by Cuba Gooding Jr. and Vanessa Williams. The widow's only desire is to revisit her old home in Bountiful and recapture purpose she lost after moving. What she thought would be an ordinary trip turns out to be an inspirational and life-changing journey.
Tyson also received a Drama Desk Award and a Playbill.com Audience Choice Award for Best Actress. She earned the Outstanding Actress in a Play Award from the Outer Critics Circle Awards, as well.
In her lifetime, Tyson has received many awards and notable recognitions. Yet, in her earlier years, the young lady of Caribbean decent worked as a secretary while struggling to become an actress. She also worked as a model for Ebony. Her first notable role was in the 1956 film, Carib Gold, noted for its large African American cast list. Thought to be lost for several years, the film is now available for public viewing at Southern Methodist University.
In 1958, she performed with other struggling – now notable actors – in The Blacks: A Clown Show, a long-running off-Broadway play geared toward a White audience. In 1963, she co-starred in the television series East Side/West Side and was a cast on the longest-running daytime drama The Guiding Light.
Since then, she has only accepted roles where she could portray a strong Black woman.
One of her earlier roles was as Portia in The Heart is a Lonely Hunter, in 1968. Tyson was nominated for Oscars as Best Actress in a Leading Role and the Golden Globe Award for her role in Sounder in 1972. Other film credits include Fried Green Tomatoes, Bustin' Loose and Jefferson in Paris.
In 1974, she was the first African American woman to receive an Emmy for Outstanding Actress in a Television Movie for her performance as Jane Pittman in The Autobiography of Miss Jane Pittman. She received an Emmy for Oldest Living Confederate Widow Tells All, and was nominated for her role in the 1977 television miniseries Roots. She also starred as Harriet Ross Tubman in the 1987 movie A Woman Called Moses, narrated by Orson Wells. That same year, she portrayed Coretta Scott King in the movie King.
In 1981, she married Miles Davis in Bill Cosby's home with Cosby as the best man. They were married for seven years.
In 2010, she received the NAACP Spingarn Medal for her outstanding achievements.
In 2011, Tyson portrayed a Black maid named Constantine Jefferson in The Help. For this role, she received a Broadcast Film Critics Association Award for Best Acting Ensemble and a Screen Actors Guild Award for Outstanding Performance.
In all, between 1951 and 2013, she has had roles in 26 films, 62 televised shows and movies, and 14 theatrical plays – performing in roles ranging from slave to matriarch. She has worked alongside other notable actors, such as James Earl Jones, Maya Angelou, Louis Gossett Jr., Ossie Davis and Sammy Davis Jr.
At 88, she beat out Laurie Metcalf, Amy Morton, Kristine Nielsen and Holland Taylor for her award at the 67th Annual Tony Awards, held at Radio City Music Hall in New York City on June 9.
The Dallas Examiner contributed to this report.