Major League Baseball makes efforts to increase diversity
6/17/2013, 8:02 a.m.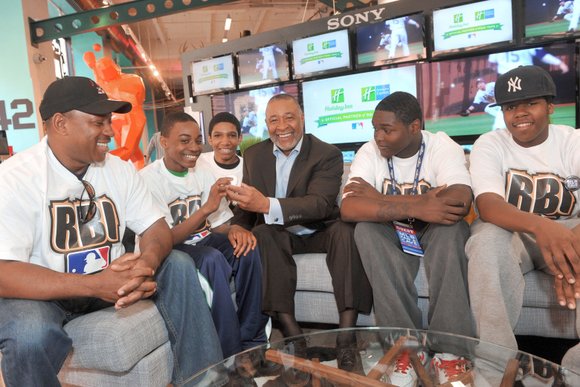 "They wanted to get it back into our culture," Monk said. "If you know baseball, you know that there are great many Dominican, Cuban and Latin American players, kids that grew up hitting a rock with a stick and are now playing America's game. There is also some concern that with the African American community, that they are not represented well in today's game like Jackie Robinson, who broke a lot of barriers. Now, there are not that many African American players. The big dogs in baseball were realizing that many players were coming from other countries and that baseball was not growing in the United States."
Monk says the Jr. RBI program is trying to bring the game back to this group.
"We are just trying to get it back in the inner city," she said. "The inner city is the place where there are children that are disadvantaged and that their parents live paycheck to paycheck and it's not in the budget to buy a glove and baseball is a little bit more expensive than say soccer.
Monk says there are many reasons why playing baseball as a sport might not be a priority for people.
"I think it has something to do with finances," she said. "Also, finding the time is hard because most parents are working 45 hours a week and finding the time to take your child to practice might be hard. People get overwhelmed and worry more about academics than just going outside and playing, not realizing the importance of a structured, organized sports program and how it can make a difference in a child."
Monk said the program is funded by the Texas Rangers.
"One of the things this program provides is the bats, the balls, gloves, chest protector and shin guards," she said. "With the funding by the Texas Rangers, we are able to give each child a hat, a cap, a jersey and each team gets equipment and can get helmets, catching gear and other stuff because of the Texas Rangers."
Recently, Texas Rangers pitcher Yu Darvish made a $25,000 donation to help support the city of Dallas RBI.
"I am happy to help a great cause and I hope that someday major leaguers will come out of the program," Darvish said.
RBI alumni on MLB rosters include, Carl Crawford (Boston Red Sox), Covelli "Coco" Crisp (Oakland Athletics) and CC Sabathia (New York Yankees).
The Rangers Foundation's partnership with RBI began in 2008.
"We are in our fourth year and the program has been very successful," Monk said. "It's a great partnership for the city and school district. We see it every weekend how the program changes children's lives. They learn more about mental focus. To see success at a young age which draws them in is incredible. The more we can draw children to do something positive with their free time, the more successful we are. We see the impact it has and it makes them better citizens also."