A Talent Show for A Better Life
Students at Amber Terrace host benefit for classmates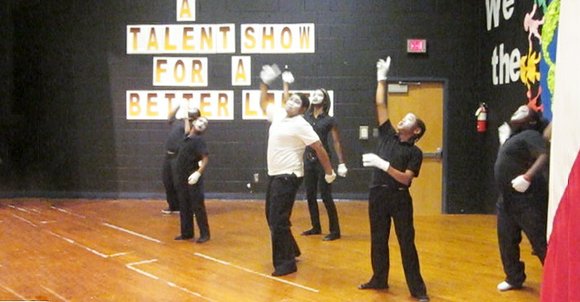 The Dallas Examiner
While most students were planning end-of-the-year parties, anticipating the first day of summer vacation, and contemplating what they will do during their time off from school, one DeSoto ISD student was planning a better life for students in need in the upcoming school year.
Brothers John and Sean Robinson and their friend Raul Hinojos at Amber Terrace Elementary School in DeSoto noticed some of their classmates came from families that could not afford proper school clothes.
With compassion in their hearts these small leaders stepped up in a very big way. They decided the solution would be to host A Talent Show for a Better Life.
Held June 4, the event, which showcased the entertainment skills of their peers, was a way for the young men to do something positive for their fellow students.
"Tonight was all about us showing our talent, and at the same time, us trying to help out other people with their clothes, financially," said John, 11, a fifth grader. Since the first day of school, he and his partners noticed that there were students showing up to class in clothing that were worn out or didn't meet school standards.
The trio approached their music teacher, Darren Dodd, about staging a school-wide talent show as a way of netting donations to help ease the financial strain on the families of their classmates.
"It's really cool," Dodd said. "It kind of blows your mind at their age, you know. It's amazing. It's awesome."
He commented that the performance unfolded with the youngsters leading the way from the very start.
"They brought us the idea," he said. "The next day we went to our principal and she gave us the go-ahead, and then we held auditions."
It all came together in a month, he noted.
"We practiced a lot," added Raul, a 9-year-old in third grade.
A positive, upbeat large crowd of family and friends beamed with pride the night of the show, laughing and clapping for each act. The little stars – who showed courage, talent and imagination – were encouraged through any misstep and cheered for their efforts.
John spoke about his peers in need after the show, saying, "Today was about helping them."
"I think this talent show was an opportunity for me to express my feelings," said brother Sean, 9, and in the third grade. He also noted that doing the right thing at the same time was important to him.
"We got people to make donations for new clothes, new shoes," Raul said. As he thought back to the size of the audience he exclaimed, "That was amazing for us. There's a lot of people. There's a lot of donations."
According to the school, the talent show brought in $1,025. Calls are still coming in from people wishing to donate clothing.
The donations will go directly back to the school and be used specifically for the needs of the student body, said principal Angela R. Williams.
"There is need in our school," she said. "And we have so much to give."
Event director Ratyra Moore called the effort from the three students "an inspiration."
"When they were in that classroom they saw that their classmates didn't have belts, didn't have the proper shoes, or didn't have the proper uniforms," she said. "For a child to just have an open heart and to say, 'You know what? Beyond just myself, I want to make sure that you have,' I think that's a great thing."
The show concluded with each of the three young men thanking the principal and teachers for helping them make the show a reality, the students who participated and made the show a success, and thanking the audience for their support and donations. The pint-sized mentors were appreciative of the attention the show received. They also felt that there was still more to do.
"If you want more, please help us. Give donations to the people in need," Sean offered.
"More people, more donations for the kids," Raul added.
Those interested in making a donation to the school for students in need of clothing and shoes, can contact the principal secretary, Trena Burke, at 972-223-8757.