EEOC sues Dollar General, BMW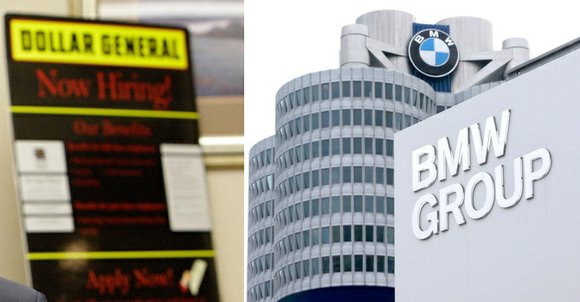 WASHINGTON (NNPA) – The Equal Employment Opportunity Commission, the agency that enforces federal employment discrimination laws, filed lawsuits against BMW and the discount retailer Dollar General alleging that the companies' broad use of criminal background checks discriminate against Black applicants and employees.
According to the EEOC, BMW fired dozens of Black employees at one of its plants in South Carolina during "a transitional period" that required employees to re-apply for their jobs. A BMW contractor performed criminal background checks that exposed criminal convictions that prevented the employees from getting rehired. The Washington Post reported that 70 Black employees lost their jobs through the process.
"One woman with 14 years under her belt was let go after a misdemeanor conviction surfaced that was more than 20 years old and carried a $137 fine, according to the EEOC's lawsuit," The Washington Post reported.
Dollar General withdrew job offers to two Black women after running criminal background checks. One woman had a 6-year-old drug conviction, but Dollar General disqualifies applicants for that type of conviction for 10 years. Dollar General showed little consideration for the fact that the woman also listed experience working at another discount retailer for four years on her application. The other woman said that her criminal history report contained errors, including a felony conviction. Even after Dollar General management learned of the errors on the report, the retailer still refused to change their decision, EEOC said in a statement.
Fair employment advocates say that errors on reports and incomplete records make it difficult for companies that rely heavily on background checks to make informed decisions.
"There's so much information that's out in cyberspace these days about criminal history records that employers have to be extremely careful about how they evaluate any one report," said Ray McClain, director of the Employment Discrimination Project for the Lawyers' Committee for Civil Rights Under Law, a group that advocates for equal justice for all through the rule of law. "They need to use a consumer reporting agency that is very careful about not reporting erroneous information."
The EEOC filed the lawsuits based on Title VII of the Civil Rights Act of 1964, which prohibits discrimination on the basis of race and national origin, after the groups couldn't reach settlements. A statement by the EEOC said that the agency will seek back pay and to enforce additional standards to prevent future discrimination.
"Title VII of the Civil Rights Act of 1964 prohibits discrimination against job applicants and employees on account of their race," said EEOC Chair Jacqueline A. Berrien in a press release. "Since issuing its first written policy guidance in the 1980s regarding the use of arrest and conviction records in employment decisions, the EEOC has advised employers that under certain circumstances, their use of that information to deny employment opportunities could be at odds with Title VII."
McClain said BMW and Dollar General will have a hard time showing that there is any business necessity for excluding the Black workers that meets the standards of Title VII.