Experts unite for healthier babies, moms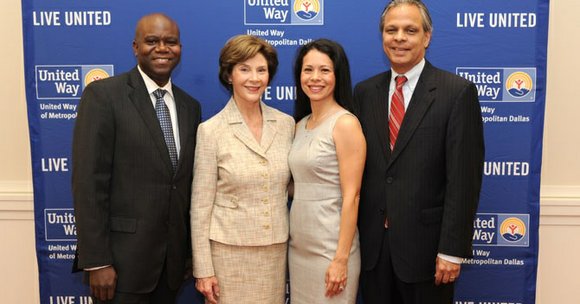 The Dallas Examiner
The importance of preventive health care in the community was the topic of the United for Healthy Moms and Babies, a panel discussion that brought together former first lady Laura Bush and an expert panel of health professionals with United Way and Kimberly-Clark Corporation. The event, which highlighted the concern about the lack of preventive care many kids and pregnant mothers are not receiving, was held at the George W. Bush Presidential Center at the SMU campus on June 4.
Dallas County leads the North Texas area in preventable emergency room visits. Approximately 83 percent of residents' emergency room visits are preventable or avoidable, according to a study done by the Institute for Urban Policy Research at The University of Texas at Dallas.
Jennifer Sampson, president and CEO of United Way of Metropolitan Dallas, began the conversation, stating that there are too many children and pregnant moms not getting the preventive health care they need.
"The latest data shows that out of every 10 visits to the emergency room made by a child in our service area, nine of those visits could be avoided," Sampson said. "And that's nine too many."
Tom Falk, chairman and CEO of Kimberly-Clark and United Way of Metropolitan Dallas campaign chair, said it was important for him to invest in this cause.
"Our health is our greatest asset," Falk said. "If you got a community that has major health issues, then nothing works."
Bush delivered the keynote address to a crowd of about 200 people.
"Saving lives begins with the decision to help, and Americans believe in the dignity and value of every life," she said. "We believe that to whom much is given, much is expected. United Way here in Dallas gives us the chance to help people we might never meet, and who might never have a chance to say 'thank you.'"
After her speech, there was a panel discussion moderated by Krys Boyd, host and managing editor of Think at KERA-FM.
The panel featured health experts such as Dr. Eric G. Bing, head of Global Health Initiatives of the Bush Institute and professor of Global Health at Southern Methodist University; Dr. Elizabeth Melendez, interim program director of Obstetrics and Gynecology Residency Program, Methodist Health Systems; and Dr. Eduardo Sanchez, deputy medical officer of the American Heart Association.
The group discussed the importance of healthy beginnings.
"The best investment we can make in health care is making sure that babies have a healthy start and a healthy home they go into," Bing said. "That means they have a healthy mom. It's an investment that we can make like having healthy families which create a healthy community which creates a healthy nation."
The topics the panel discussed included the barriers people face to having access to health care, the value of parent education, and the importance of social support and having strong communities.
"Fundamentally, we need both healthy babies and healthy moms for a healthy society," Sanchez said. "It is important for moms-to-be to stay healthy before and during the pregnancy and that means everything from eating healthy, being physically active and not smoking, and also making prenatal care a priority as quickly as possible so that everything that should be done is done and in a quick and timely manner as that baby is going through something really, really small to a little human being later on."