Student-run store, outreach center
UBA OKEREKE | 6/23/2013, 6:53 p.m.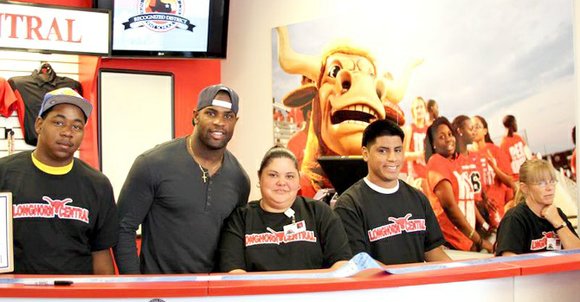 Cedar Hill Independent School District students and staff joined residents on May 4 for the ribbon-cutting ceremony of the district's student-run retail store "Longhorn Central." The store is located at 425 E. Pleasant Run Road, Suite 253 in Cedar Hill. The event also included a celebrity signing by Dallas Cowboys running back DeMarco Murray.
The 1,900 square-foot store is stocked with CHISD spirit clothing and gear. Merchandise includes shirts, jackets, gym bags and sunglasses. It also features customized towels and lanyards made by special education students in Cedar Hill High School life skills classes.
"It's great to see a new business in town run by such young entrepreneurs," said Amanda Skinner, president of the Cedar Hill Chamber of Commerce. "This will add to the city's tax base."
The store is the project of three classes at the high school: practicum in marketing, practicum in business, and practicum in hospitality. Students have been involved in planning and setting up the store. They chose the store name, selected the inventory, and stocked the shelves.
"We selected the products, ordered the inventory, made the logo designs … basically we were involved in all aspects of developing the store," said Cedar Hill High School senior Joseph Garcia, a student in the practicum in marketing class.
A computer lab is available in the back of the store that is open to the community for school district parents and students to use if they don't have one at home. Verizon Wireless will provide community-based training classes on how to use personal devices – like tips and tricks for smartphones. The district will also host virtual high school classes, adult education courses, money management classes and Spanish classes for English speakers.
"They did a great job. This is such a great opportunity for our students to get practical experience," said Michael Quildon, president of the CHISD School Board. "These are our future business leaders and entrepreneurs."
The store will be staffed with two part-time adult ambassadors and Cedar Hill High School student clerks.