Tracy Randall, the man behind the Grammy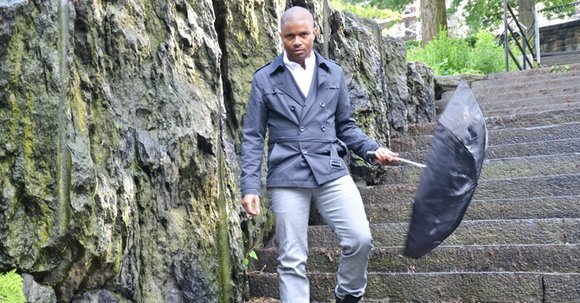 Randall spoke with an intense passion about his mission, yet conceded that, at times, troubles in the physical world can be challenging. He has a chronic fever and had to stay in bed the day before the show due to his health problems. Depression also weighs heavily upon him.
But Randall, a father of three, has not given up his fight.
"I haven't gotten worse and I haven't gotten better, but God keeps blessing me to be able to praise Him, so that's what I'm gonna do," he continued.
Showtime neared as Randall prepared to go on.
"It's a difficult walk, but I'm glad to be alive," he said with a laugh. "If God calls me, I'm ready." There was no trace of fear in his voice, no self-pity in his remark.
"I have no doubt where I am going to go."
A powerful, inspiring evening of praise
Singer/songwriter Tracy Randall performed to an appreciative audience June 2 as part of a First Sundays gospel concert series sponsored by Round The Clock Entertainment in Arlington. Performing three songs from his second album, Troubled Times, he brought the crowd to their feet with an energetic mini-concert and personal testimony. He did it all while suffering fever related to his leukemia, an ailment he has been struggling with since 2006.
The event, hosted at The Center City Grill, featured spirit-filled entertainers ranging from singers, dancers, a rapper or two, and a spoken word artist. As Randall took the stage, waving his hands and firing up the crowd, he earned a standing ovation before he had sung a note.
Headlining the event with his effortless, upbeat sound, Randall made his voice heard and message felt. He brought to the assembled listeners a message of never giving up and his personal reminder that it's not the trappings of the world that matter, but the truths within.
"God doesn't know 'the bishop,'" he told the crowd, speaking about what he believes is too much focus on titles and status in life. He continued as spectators shouted their support. "God doesn't know PhD Tracy Randall. He doesn't know Grammy-nominee Tracy Randall. God knows me as Tracy Randall."
Hands, praises and applause rose from the multitude, filling the room with passion as he spoke from his heart.
Randall isn't known for his speaking. He is known for his music and he rocked the house. His performance of It Feels Good, the latest single from his new album, pumped up the already excited crowd as they swayed to the song. An anthem to the positive side living in faith despite the obstacles that life can present, It Feels Good is an ebullient poem delivered in a buoyant R&B style.
As a music artist who has worked with Whitney Houston, Mariah Carey and Li'l Wayne Randall, he did not forget the secular side of music. His style has a pop feel to it, heavy with bass rhythm, a sound that made most listeners move throughout the show.
His voice is honey-smooth. From the audience reactions there was little doubt as to why his latest single is getting heavy airplay on radio station KHVN. With the ability to go from trilling high notes to low notes, pulled soul-deep from within, grinding out the question, "Do I deserve you, Lord?" Randall made the stage his own pulpit, the crowd his congregation.
Thank you, Jesus, he began to sing as he extended his fist in the air – a gesture of focused conviction. It was the gesture of a man not just trying to sell something, but that of a man who truly believed. As those assembled broke out in applause it was clear that Randall was in a house filled with believers. He brought a musical message of hope for those who needed it, from one who is living it.
His music is available for download on iTunes and Amazon.