Real Men Cook Dallas celebrates fathers, family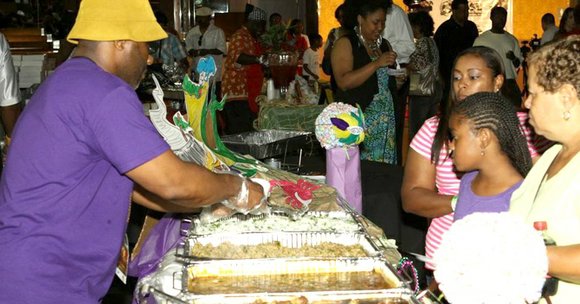 The Dallas Examiner
On Father's Day, Real Men Cook Dallas, a non-profit organization that honors fathers through various types of events, hosted their 24th annual celebration at Gilley's Southside Music Center. Many chefs, fathers, sons, tasters, performers and other non-profit organizations came together to participate in the sharing of different food ideas and items, as well as to enjoy entertainment by various performing artists.
One chef present was local Cedric Jemmerson, sampling his chicken balls with sweet ginger soy sauce, and Napa cabbage coleslaw with honey-lime dressing. He credits his love for cooking to his experiences as a young man and has enjoyed cooking ever since.
"I used to cook all the time with my grandma. I started off working in the medical field, got bored with that, and went on to culinary school," Jemmerson said. "Then I opened up my own company where I use my own personal recipes."
"Special recipe" was a phrase chefs frequently used at the event, oftentimes surprising tasters because of the ordinary titles of their dishes, like Barbeque Chicken and Wes Wings.
Other chefs included Dyrell Hatcher, offering several food items from Hatcher's Grill in Celina; Dan Russell, who served up his delectable sweet potato pie; and Reginald Carpenter, who brought Hawaiian meatballs and barbecue chicken. Within the first hour of the event, food was in short supply as attendees came back for more and more of the appetizing dishes.
According to Event Manager Terry Allen – the local branch of Real Men Charities – is also an organization with the public interest at heart.
"We host daddy-son, culinary camps – in fact we're going to host one at Fort Worth Dunbar this summer. This is an opportunity for absent fathers to prepare meals with their sons and get to know them through cooking," Allen said. "We also stress healthy cooking to help curb obesity."
Also in attendance were other organizations, like the Gifts for Moms Project, an organization geared toward assisting single mothers.
Founder Stephanie Ward said that the organization offers help with various resources, namely with clothing, school supplies, Christmas gifts and Child Protective Services. Ward was there not only to support the work of RMC but to raise money for their Single Parent Conference – the largest of its type in the Southwest – to take place on Oct. 19.
The event also furnished the opportunity for attendees to pay tribute to Lt. Calvin J. Spann, one of the illustrious Tuskegee airmen.
The day was filled with a variety of food. Entertainment was plentiful including performances by several artists, such as musician and vocalist Joyce Spencer; and actress and vocalist Angela Blair.