The test: Knowledge is power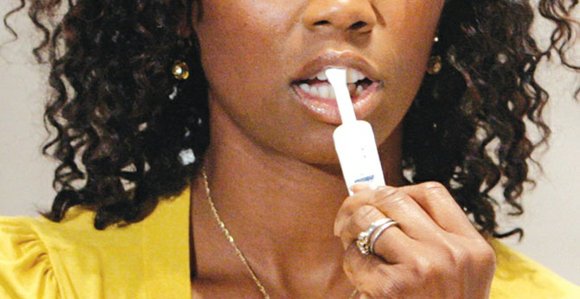 Thursday is National HIV Testing Day. It is a day dedicated to promote testing for the human immunodeficiency virus and acquired immunodeficiency syndrome.
The initiative – founded by the National Association for People with AIDS – was intended to reinforce HIV/AIDS prevention across the country through community involvement, according to Leisha McKinley-Beach, the director of Stakeholder Engagement of The Black AIDS Institute.
"Only through testing can one's status be determined," she said. Many people are not aware that they have the diseases. Without this vital knowledge those who are ill are unknowingly in the position of not only possibly spreading HIV/AIDS but also risking the deterioration of their own health.
According to the Centers for Disease Control and Prevention, of the more than 1.2 million people living with HIV in the U.S., an estimated 1 in 5 do not know it. One third of those who are positive are diagnosed so late in the course of their infection they develop AIDS within one year. These numbers are especially alarming when it comes to the African American community.
"We know that African Americans in particular represent almost half of the new HIV cases in this country," McKinley-Beach said.
Several community groups in Southern Dallas are gearing up to do their part on the day of testing, stated Zachary Thompson, the Director of Dallas County Health and Human Services.
Locally, the DCHHS will put their mobile clinic to use and partnering with Greater Than AIDS, Abounding Prosperities, Dallas AIDS Arms, the Dallas Urban League, UT Southwestern and Walgreens for the initiative.
"Knowing your status is a great benefit to everyone," Thompson said. "We want everyone to know their status so you can get the necessary medical services that you will need, but also it prevents the spread of the virus as well."
Testing at participating partner locations will be free on Thursday. The test may involve a cheek swab or a blood draw, depending on the individual testing locations. Thompson said vigilance is especially important for young people and those in the minority communities. He urged those individuals to come out and get tested.
"There are more than 13,000 people who are living with HIV/AIDS in Dallas County," the director said. Out of those numbers for 2011, he said, 52.8 percent of the new cases of HIV/AIDS were in people younger than age 35. These rates were disproportionately higher in African Americans."
McKinley-Beach believes National HIV Testing Day is a great opportunity for people to find unity in an issue that still carries a stigma.
"Now people can say 'Oh, I'm testing in recognition of this national observance' versus 'I'm tested because I participated in some risky behavior,' or 'I need to know my status," she said addressing the stigma. "HIV is a health issue. It is not a moral issue."
She discussed eliminating the negativity surrounding getting tested for HIV and stated that it should be part of an annual physical to remain healthy.
"We want HIV testing to be included to be a part of that process," she noted. "We've got to get past the stigma. We've got to do more education in our churches, in our schools. We've got to focus on getting that information out – that routine testing should become a part of everyone's annual checkup."
Community education was discussed as the key to prevention, testing, early medical care and ending stigma.
"Our best bet in helping to end the AIDS epidemic truly is educating our community, helping Black communities mobilize to address the epidemic, and of course empowering people living with HIV/AIDS to be able to take control of their health care," McKinley-Beach added.
To find the most recent HIV/AIDS data for Dallas County or locate a testing location for National HIV Testing Day go to the Dallas County Health and Human Services website at http://www.dallascounty.org.