No winner in first vote to elect new pope
3/12/2013, 3:27 p.m.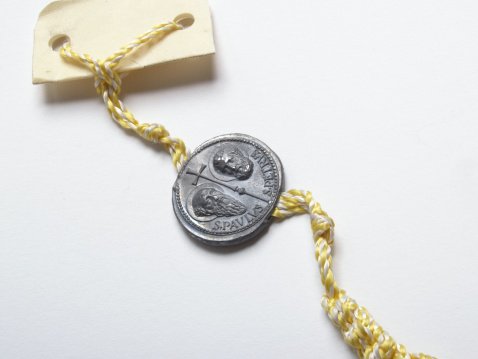 Black smoke billowed from the chimney of the Sistine Chapel Tuesday night, indicating that cardinals gathered at the Vatican to elect a new pope had not chosen one in the first ballot of their conclave.
The start of the secret election got underway earlier in the day, as the heavy wooden doors to the chapel swung closed on the 115 Roman Catholic cardinals charged with selecting the next pontiff.
The next round of voting will begin Wednesday morning. Results will be revealed by puffs of smoke from the chimney following each ballot.
Black smoke, no pope. White smoke, success.
On a day rich with symbolism, the scarlet-clad cardinals entered the Sistine Chapel in solemn procession, chanting prayers and watched over by the paintings of Renaissance artist Michelangelo.
Led by the conclave's senior cardinal, Giovanni Battista Re, each of the cardinal-electors -- those under age 80 who are eligible to vote -- then swore an oath of secrecy.
A designated official then gave the order, in Latin, to those not authorized to remain, "Extra omnes" -- that is, "Everyone out."
With all those not taking part in the conclave gone, the cardinals will remain locked in isolation until one candidate garners two-thirds of their votes.
That man will emerge from the process as the new spiritual leader of the world's 1.2 billion Roman Catholics.
Selecting a pope
Huddled under umbrellas as rain came down, crowds of onlookers watched on big screens set up in St. Peter's Square until the doors to the Sistine Chapel were shut.
'Noble mission'
Earlier, the cardinals celebrated a morning Mass at St. Peter's Basilica, where they prayed for guidance in making a choice that could be crucial to the direction of a church rocked by scandal in recent years.
Applause echoed around St. Peter's as Cardinal Angelo Sodano, dean of the College of Cardinals, offered thanks for the "brilliant pontificate" of Benedict XVI, whose unexpected resignation precipitated the selection of a new pope.
Sodano's homily focused on a message of love and unity, calling on all to cooperate with the new pontiff in the service of the church.
"My brothers, let us pray that the Lord will grant us a pontiff who will embrace this noble mission with a generous heart," he concluded.
Members of the public had waited in long lines Tuesday morning to join the Mass. As the service began, the morning sunshine came to an abrupt end, with the skies letting loose thunder, lightning and a torrential downpour.
Before the service, the cardinal-electors had moved into Casa Santa Marta, their residence at the Vatican for the duration of the conclave.
Jamming devices have been put in place to stop them from communicating with the outside world via mobile phones or other electronic means as they make their decision.