A stronger Violence Against Women Act
MAYA RHODAN | 3/17/2013, 3:57 p.m.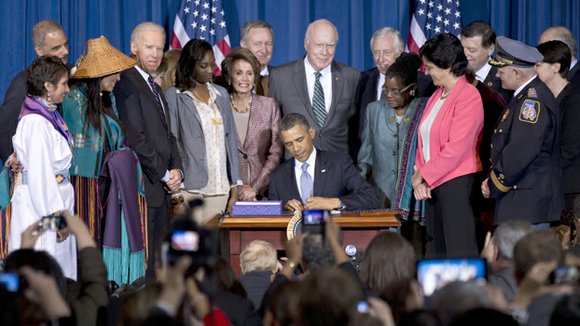 WASHINGTON, D.C. — When Rep. Gwen Moore, D-Wisc., stood near President Barack Obama on March 7 as he signed the Violence Against Women Act into law, as a rape survivor, she knew the benefit of the legislation as well as well as anyone in the room.
"I am so pleased to join President Obama and so many of my colleagues for this historic signing," she said. "The reauthorization of VAWA has been a long time coming, but the majority of Congress finally came together and did the right thing on behalf of women across this country. This legislation will help all women – including Native, LGBT and immigrant women – come out of the shadows of domestic violence, sexual assault, stalking and human trafficking."
Obama signed the reauthorized bill last week after Congress united and voted to expand the law to offer protection to women in lesbian, bisexual, transgendered and Native American communities. While holding on to the original provisions, including those in place to protect immigrant women from deportation when they report abuse, the expanded law now provides services to victims of domestic violence and sexual abuse, regardless of sexual orientation.
Moore, members of advocate groups, survivors of abuse, politicians and supporters cheered as the president signed the bill into law at the Department of the Interior.
"This is a day for the advocates, a day for survivors. This is your victory," the president said at the ceremony. "This victory shows that when the American people make their voices heard, Washington listens."
Attorney General Eric Holder, House Minority Leader Nancy Pelosi, Sen. Susan Collins, R-Maine, and Rep. John Conyers, D-Mich., who helped draft the original bill, were also on stage with Obama.
Every minute in America, 24 people become victims of stalking, rape or violence by an intimate partner, resulting in about 12 million people becoming victims every year. According to the Centers of Disease Control and Prevention, 23.6 percent of women report being victims of intimate partner violence.
"One of the greatest sins that can be committed is an abuse of power and the ultimate abuse of power is for someone bigger and stronger to raise their hand to strike someone else," said Vice President Joe Biden, who drafted the original Violence Against Women Act 19 years ago.
Since then, reported incidents have been on the decline. Between 1993 and 2010, the rate of intimate partner violence decreased by 67 percent, according to the White House fact sheet.
President Bill Clinton first signed the act into law in 1994. The act provides federal funds and support to organizations that serve victims of domestic violence and rape.
The law has improved how victims of rape and domestic violence are treated under the law and strengthened penalties on rapists and sexual offenders. Since the law was first passed, reports of domestic violence have increased by nearly 50 percent, and a 35 percent decrease in the rate of intimate partner homicide.
According to the National Task Force to End Sexual and Domestic Violence Against Women, 45 percent of LGBT victims are turned away from domestic violence shelters and 55 percent of those who sought protection orders were denied.