A man of God called to become a Jesuit priest
3/21/2013, 12:04 p.m.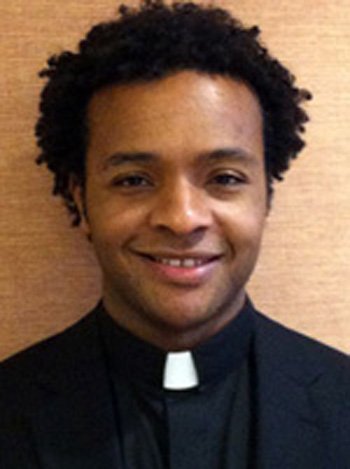 Lorenzo Herman is a man dedicated to serving his community. He has traveled the world as a U.S. Air Force in-flight refueling specialist, served as a community activist working with African American and Latino HIV and AIDS patients, and has also done some acting.
His next adventure will be serving as the next president of the National Black Catholic Seminarians Association. Herman, 39, is studying to become a Jesuit priest and is currently studying theology at Seattle University.
"I grew up as a Baptist kid in Cleveland, but my life changed in high school," Herman said.
The oldest of six children, he attended St. Ignatius High School in Cleveland, where he first encountered the Society of Jesus - known as Jesuits and considered to be the largest order of priests and brothers in the Roman Catholic Church.
"My family grew up very poor, and we lived in the poorest part of town in Cleveland," Herman said. "In high school, the Catholic school that I attended was run by Jesuit priests and they really took care of my family financially and spiritually. The school was private and expensive, but the Jesuits did everything they could to help me stay and graduate."
The group asked Herman to consider the priesthood during his senior year.
"I was surprised but open to the calling," Herman said. "Only problem was that I wasn't Catholic at the time."
A year later, Herman began attending Spring Hill College in Mobile, Ala., where he converted to the Catholic faith.
One year after that, he joined the Air Force and was assigned to Fairchild Air Force Base in Spokane, Wash. During that time - from 1994 to 2000 - he became involved with AIDS advocacy, volunteering as a case worker after he found out that one of his friends in the military had AIDS.
"I was shocked when my friend told me and was scared because I thought he would die immediately," Herman said. "I went through a mental scare moment and was terrified."
Herman said he knew he had to do something.
"It became my mission in life to help HIV and AIDS patients," he said.
Herman then moved to San Diego in 2001 to be closer to relatives and family, and that is where most of his work with HIV and AIDS patients began. He also worked with Gov. Arnold Schwarzenegger to pass HIV/AIDS legislation through the California State Legislature.
However, the thought and question of becoming a Jesuit priest never left Herman's mind.
"I always thought living in a community and doing service was my calling," Herman said.
In 2007, he answered the call to become a Jesuit priest by joining the society. However, he will not be ordained until 2017.
Since joining the society, Herman completed his bachelor's degrees in philosophy and African American studies at Saint Louis University, where he first encountered the National Black Catholic Seminarians Association.
"The NBCSA is a support group for Black seminarians studying to be a priest," Herman stated. "Right now, there are 60 seminarians involved and my goal as the new president is to increase the numbers and get more Black men involved and to consider a vocation to the priesthood."
He said he has many goals as the new president of this organization.
"My main [goal is] sustainability. I really want to work on the structure of the organization so that we will have a smooth transition into the future," he said. "Also, I would like to strengthen our constitution and do a 'needs assessment' for the Black seminarians to see how we can help them. I always want to work on leadership development so we can help promote future leaders in the organization."
Herman said his other goals after becoming a priest are to work as a professor teaching social justice and women's issues.
"My favorite thing about being Catholic is the liturgy," he affirmed. "As a seminarian, I love being present in people's lives and as a priest I know that I can listen to people's stories and help them articulate how God is working in their lives and what God is calling them to do in their lives."